News story
Autumn Statement 2013: Scottish perspective
More help for Scotland, more choices for Scottish Government in Autumn Statement says Scottish Secretary.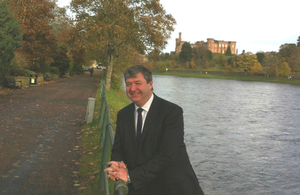 Scotland will receive more than £300 million in extra devolved spending from the Autumn Statement whose measures will also help businesses and families with rising costs.
Among the announcements made by the Chancellor that will help people in Scotland are extra support for young job seekers, 20p off petrol for motorists and consultation on cutting around £50 off energy bills.
Edinburgh University will be given funding for a new Higgs Institute, the Shetland Islands will receive £10m to invest in infrastructure projects and the Government will work with Glasgow City Council to support their vision for a City Deal.
Scottish Secretary Alistair Carmichael said the Autumn Statement was providing real help for people and communities across Scotland as well as posing some serious choices for the Scottish Government on their spending priorities and oil forecasts.
Mr Carmichael said the extra money provided to the Scottish Government in recent years means they can match UK priorities or follow through with their own childcare proposal from last week. He also said that their oil forecasts were hoping for a miracle.
Among the main measure announced in the Autumn Statement that help Scotland are:
From April 2015, employer National Insurance contributions will be abolished for under-21 year olds. This could save business in Scotland £45 million and support the jobs of 138,000 young people in Scotland.

Jobcentre Plus will extend its service to provide support for 16 and 17 year olds who want help to find apprenticeships and training

The Government will permit local authorities in Scotland to access up to £250 million cheaper borrowing at the Public Works Loan Board. This is on top of the £2.3 billion of capital borrowing powers the Scottish Government will benefit from in 2015-16 as a result of the Scotland Act.

330,000 couples in Scotland will be able to benefit by up to £200 per year through the introduction of the transferable tax allowance for married couples in 2015/16 – an allowance the Scottish Government has already said it would remove.

Cancelling the fuel duty rise planned for September 2014 will reduce fuel costs for the drivers of 2.7 million vehicles in Scotland. The statutory maximum price for MOT test will be frozen at £54.18 until 2015.

A package of support in energy, including reforming the Energy Company Obligation, will help support more than 2.5 million households with the costs of their electricity bill, expected to reduce the average bill by around £50.

We are working to support Glasgow City Council in exploring options for UK Government support in reserved areas for a City Deal and are pressing the Scottish Government to identify a package tailored to Glasgow's circumstances.

We are providing £10 million over two years to support infrastructure projects in the Shetland Islands, subject to the Scottish Government agreeing to equivalent levels of support.

The Government has agreed to provide £10 million capital to support the Higgs Centre, based in Edinburgh.
Speaking after the Autumn Statement, Mr Carmichael said:
Today we are seeing the figures for Scotland's economic outlook revised upwards. That's because, as part of the UK, Scotland is benefitting from the measures that we are taking to get our economy growing again. The size and scale of our economy have given us the strength and credibility to get back on track, and we now have the fastest growing economy in the G7.

This autumn statement gives the Scottish Government an extra £300 million in spending, taking the total to an extra £2.2 billion since we came to office. The independent OBR today revised oil production figures down to half of the Scottish Government's lowest estimate in 2016/17. So while they hope for a miracle, we are planning sensibly and growing Scotland's budget as part of the UK.

The Scottish Government can now plan to spend this money in line with its priorities. The rest of the UK is already ahead of Scotland in providing childcare support, free school meals and, with this Autumn Statement, support for the high street too so that the shops we value and rely on get a little money back to help them succeed.

The Scottish Government has been given the money to do these things too. They can match the help that families and businesses are getting in other parts of the UK. They could crack on with childcare package they announced last week, but are making conditional on a yes vote to independence. They can do these things, or they can spend the money elsewhere. These are the choices that they must make.
Published 5 December 2013