News story
Auto sector driving growth
Business Secretary Vince Cable test drives Aston Martin and Jaguar cars as part of tour of West Midlands.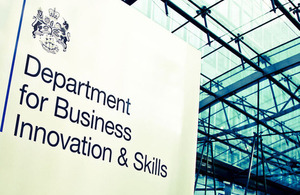 Dr Cable is in the region to meet with representatives of the UK's automotive sector and West Midlands businesses.
The opportunity to test drive the Aston Martin came after Dr Cable mentioned on Desert Island Discs his ambition to drive the car.
Dr Cable said:
"As I said on Desert Island Discs, driving an Aston Martin has always been a dream of mine.
"Fortunately for me Aston Martin took note and gave me the opportunity not only to test drive some of their cars but also to witness the high level of skills and engineering that go into making premium and niche cars in the UK.
"This is something in which the UK excels and our cars are exported all over the world.
More than 80 per cent of premium cars built in the UK are sold overseas, contributing significant revenues to the economy. In 2009 the UK exported cars worth over £15 billion, with premium cars a large proportion of this.
Low carbon challenge
The premium sector is also tackling the challenge of producing low carbon vehicles, with Dr Cable test driving one example of this: the Jaguar Land Rover Limo Green
"Another great example of UK excellence is Jaguar's hybrid car, the Limo Green. An executive car that can do more than 50mpg with CO2 emissions from only 50g/km shows Britain's premium car sector is more than capable of rising to the environmental challenges facing the car industry."
Dr Cable also took part in:
Links
Published 24 August 2010