News story
Authorised Testing Facility (ATF) number 400 opens
400th Authorised Testing Facility (ATF) opens at HTC Hemel Hempstead in Hertfordshire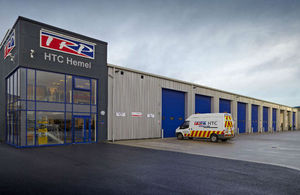 The 400th Authorised Testing Facility (ATF), at HTC Hemel Hempstead in Hertfordshire, was opened by Alastair Peoples, Driver and Vehicle Standards Agency CEO, on Wednesday 8 January.
This marks a further milestone in the Driver and Vehicle Standards Agency's (incorporating VOSA and DSA) drive to reduce the burden on commercial operators by taking vehicle testing closer to the customer.
ATFs are privately-owned businesses where a DVSA tester carries out annual tests on heavy goods and passenger service vehicles. The ATF network is part of DVSA's Testing Transformation Programme which gives customers more choice of where to go for tests while at the same time reducing vehicle down-time.
Almost 72 percent of all tests are now carried out at private sites away from DVSA's own test stations.
Alastair Peoples presented HTC Hemel Hempstead with a certificate to commemorate the official opening of the 400th ATF.
Alastair Peoples said:
I am glad I have been invited to mark the opening of this 400th ATF today.

I feel proud of the ATF record so far and I know local operators and drivers in the Hemel Hempstead area will quickly see the benefits of having a greater choice of where they can have their vehicles tested.

ATF customers from across the country tell me they have seen savings on fuel costs, vehicle down-time, lower CO2 emissions and improved first-time pass rates and I fully expect to hear similar feedback from operators and drivers using this facility.
Peter Gibbons - Aftersales Director of the HTC Group said:
All at HTC are very excited regarding this wonderful opportunity to take our new depot in Hemel Hempstead one step closer to becoming the complete one stop shop for all customers in the area. The opening of this ATF Lane today along with all the other services this brand new site offers will without a shadow of doubt enable us to raise the bar even higher.

The growth of HTC Hemel since opening its doors in April of this year has been incredible but now that we can offer this additional service (ATF Lane) - the sky is most certainly the limit.

We are also looking forward to strengthening our already close working relationship with the DVSA.
VOSA media enquiries
You should contact our press office if you have a media query or you're a journalist.
Published 9 January 2014