World news story
Australian entrepreneur wins place on UKTI's Sirius Programme
An Australian graduate entrepreneur has won a place on UKTI's Sirius Programme, allowing his business to start up in the UK.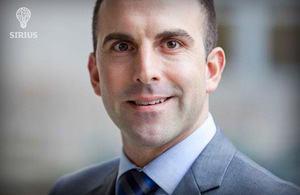 Jonathon Spanos from Melbourne, Australia is part of the ToBe team, and with its innovative woolen sports shoe, ToBe fought off strong competition from more than 160 aspiring entrepreneurs from over 30 countries who entered the first round of UK Trade & Investment's (UKTI) pioneering Sirius Programme.
Selected by independent entrepreneurship experts as part of a rigorous judging process, ToBe will join six other start-ups, which are made up of 19 young entrepreneurs from 13 countries including India, France, Algeria, Italy, Germany, Canada, Kenya and Nigeria. The teams will now be able to establish their promising businesses in the UK, helping boost Britain's enterprise community, creating jobs and inviting foreign investment.
Jonathon Spanos, from Melbourne, Australia commented:
We're creating a whole new, unique category of footwear based on the natural, renewable and biodegradable benefits offered by wool. Entirely negating the need for socks, our invention aims to revolutionise the way everyone from everyday athletes to professionals train. We want to take on the trainer market in the same way my fellow antipodean, and ex-Liverpool FC player, Craig Johnson, turned the football and rugby boot market on its head with the Adidas Predator. Wool has never been used as the central product in footwear before and our running shoes are the first in the world to be made from a proprietary woolen fabric – and designed for sockless wear, with no internal seams for an unparalleled level of comfort and performance.

We're delighted ToBe has been chosen as one of the first start ups to be part of the Sirius Programme. It's the perfect opportunity to help us fulfill ToBe's ambitions. Being based in the UK will enable us to start up and develop alongside like-minded entrepreneurs and gain access to world-class strategic advice and support. The UK market's understanding of wool is also a great advantage. We can't wait to meet our Sirius Programme mentors, the accelerator team and to get started.
Jonathon will receive start up support from the Programme including a 12 month place on one of the best business accelerator programmes in the UK, mentoring, help gaining clients, financial support of £12,000 per team member and visa endorsement. The enterprise will be 100 per cent owned by ToBe and no equity is taken.
The Sirius Programme aims to attract hundreds of talented entrepreneurs into the UK in its first two years, with each of the resulting business creating new jobs, bringing in foreign investment and making a significant cumulative impact on the UK economy. Advantages of starting up in the UK include access to 500 million customers in Europe (62 million in the UK) and the fact that these consumers tend to be early adopters, keen to test and try new innovations.
The Sirius Programme is open for entries until 15 January 2014. For more information and to apply visit www.siriusprogramme.com.
Published 16 December 2013