World news story
Austin, Texas mayor presents Deputy Consul General with key to the city
Austin Mayor Lee Leffingwell recognises the work of the British Consulate General in expanding UK-Texas connections.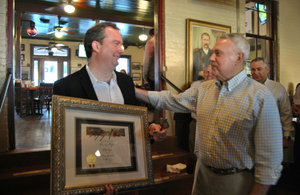 In appreciation of his work to establish strong connections between the City of Austin and the UK, Austin Mayor Lee Leffingwell presented British Deputy Consul General Andy Pryce with honorary Austin citizenship and a key to the city. The gesture comes as Andy's time in Texas comes to close and he moves on to his next post.
During the four years that Andy has been posted at the British Consulate General in Houston, he has been instrumental in creating a partnership between London's Hackney borough and the City of Austin. In February 2012, Mayor Leffingwell and representatives from 10 Austin-based tech firms travelled to London to begin a friendship agreement that has led to an increase in business between the UK and Texas. Hackney now has a presence in Austin during SXSW Interactive Festival through Hackney House. At the 2012 festival, UK Trade & Investment brought a delegation of over 30 UK tech firms seeking business relationships with US counterparts.
The City of Austin also sent a delegation to attend the Digital Shoreditch Festival in 2012.The coming years will see a strengthening of ties in all things technology, education exchanges and the creative arts between east London and the Texas capital.
"Austin is an important market and its growing tech sector makes it a natural fit for UK firms to come and do business here," Andy Pryce said. "The deep Texas-UK connections we've been able to forge truly make this honour from Mayor Leffingwell even more meaningful."
Other public figures who have been bestowed the same honour include Sir Paul McCartney and Adam West.
Published 21 August 2013