World news story
Aussie and Kiwi retailers swap success stories in London
Australian and New Zealand retail executives gathered at the Australian High Commission in London to celebrate their success in the UK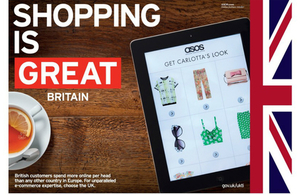 A group of Australian and New Zealand retail executives gathered at the Australian High Commission in London on Monday 20 February 2017 to celebrate their combined success in the UK.
Hosted by the UK's Department for International Trade (DIT), the evening reception brought together representatives from some of the biggest Aussie and Kiwi retail brands experiencing success in the UK, including Kikki.K, Typo, Just Cuts and RM Williams.
The event gave attendees the chance to network with fellow Aussie and Kiwi retailers already operating in the UK and receive advice from DIT retail experts, as well as representatives from Austrade and New Zealand Trade and Enterprise (NZTE), on how to take the next steps for international growth.
DIT's retail specialist Fred Bassnet spoke on the future of the UK retail market and how the UK government can support new market entrants, by providing market research, support in finding and comparing locations, information on company set up, access to finance, recruitment and visas. He also explained that DIT has a network of specialists providing expert advice on issues such as e-commerce, luxury goods retail, tax and planning.
Michael Ward, British Consul General and Director General UK Department for International Trade, Australia and New Zealand said:
Last night was a terrific opportunity to celebrate the international success of Australian and New Zealand retail. My team here in Australia and New Zealand is pleased to have supported so many of the companies who came along and we look forward to helping many more succeed in the UK.

With over 60 million consumers making 320 million transactions a week and a mature e-commerce market, where spend is more online per head than anywhere else in the world, the UK is a prime destination for Australasian retailers looking to expand their global footprint.
The UK is also leading the way when it comes to retail technology with the adoption of smart technology such as time delay mirrors, smart change rooms and wearable technology.
The DIT team has worked with around 20 Australian and New Zealand retail companies over the past two years including Bailey Nelson, Bunnings, Mon Purse, Typo, Lovisa, Kikki.K, Element and Smiggle, just to name a few.
Notes to editor
The UK is the number 1 destination for foreign direct investment (FDI) in Europe and the 2nd largest FDI retail destination globally (source: FDI Markets).
In 2014 and 2015, Australian retail companies delivered over £203 million pounds in capital investment and 1800 jobs to the UK. (source: FDI Markets user generated report. This report was automatically created by fDi Markets using the criteria selected by the user. Whilst care has been taken in programming the analysis and presentation of data, abnormalities may occur. The Financial Times Ltd accepts no responsibility for the accuracy or otherwise of the content)
The total value of retail sales in the UK (excluding fuel) in 2016 was £358 billion (ONS, 2016).
The UK ranks third in the world for online business-to-consumer sales. UK consumers are early adopters and are open to new and innovative models of service delivery. They have the highest online spend per head in the world at over 3,500 USD per year.
About DIT
The UK's Department for International Trade (DIT) has overall responsibility for promoting UK trade across the world and attracting foreign investment to our economy. We are a specialised government body with responsibility for negotiating international trade policy, supporting business, as well as delivering an outward-looking trade diplomacy strategy. www.gov.uk/dit
Media contact:
Annie Galea - Head of Communications
British Consulate-General, Sydney
annie.galea@mobile.trade.gov.uk
+61 2 82472274
Published 20 February 2017