Audit Commission abolition on course to save taxpayers over £1 billion
Closure of Audit Commission to save over £1 billion and deliver coalition pledge to reduce bureaucratic public bodies.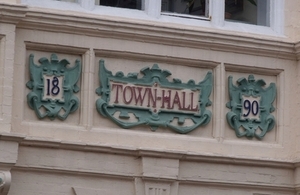 The government's closure of the Audit Commission's is on course to save over £1 billion and deliver the coalition agreement pledge to reduce the cost and number of bureaucratic public bodies, Local Government Minister Brandon Lewis said today (10 March 2014).
Following the closure of the public consultation, that had broad support, the government is now is moving forward with the implementation of legislative reforms for a more robust, accountable and efficient way of holding local councils to account. It is drawing up regulations to be laid in Parliament before the summer.
This follows the passing by Parliament of the Local Audit and Accountability Act in January 2014 which will create new local audit procedures to scrutinise councils and other local authorities.
The decision to close the Audit Commission has already led to savings of £400 million, which shows the government on track to deliver savings to the taxpayer of £1.2 billion over 10 years.
The government abolished the Audit Commission's expensive inspection regime and, in 2012, its audit practice was outsourced to private audit firms. The regulations for this Act will disband the residual Audit Commission and introduce a new local audit framework.
Local Government Minister Brandon Lewis said:
The decision to abolish the Audit Commission was because it was a wasteful, ineffective and undemocratic. What should have been a voice for taxpayers became a creature of the central state.

Instead of just auditing accounts: it was regulating, micromanaging, and inspecting, forcing councils to spend time ticking boxes and filling in forms rather than getting on with the business of local government.

Our new law will replace this old fashioned quango by passing power down to people through more local choice and transparency. Better local audit arrangements will replace central dictat and as a result we remain on track to save taxpayers £1.2 billion.
A consultation was also published today on proposed new transparency requirements for parish councils with small budgets, which are exempt from the new local audit regime.
Outsourcing all the Audit Commission's in-house local public audit work to the private sector has lead to a 40% reduction in council audit fees and left only a small residual Commission staff to oversee the outsourced contracts until the Commission closure is completed and the contracts transferred.
In addition, the government ended the comprehensive area assessment regime in 2010, freeing local authorities from £25 million in compliance costs and enabling them to focus on service delivery and meeting local people's needs.
Further information
The Local Audit and Accountability Act delivers the government's commitment to close the Audit Commission and transfer its remaining functions. The Act puts in place a new local audit and accountability framework for local public bodies in England. This replaces the centralised arrangements for the audit of local bodies with a more localist approach, giving local bodies the freedom to appoint their own auditors from an open and competitive market; manage their own audit arrangements, with appropriate safeguards to ensure auditor independence; and retain the same high audit standards. As a result, audit services will be better matched to local bodies' individual needs.
The Act also protect the rights of taxpayers to inspect local bodies' accounts and allows them to say if they think there are matters that the auditor should examine. In addition, the Bill maintains public interest reports and we intend that the new regime should safeguard whistleblowing protections through secondary legislation.
A plain English guide to the Local Audit and Accountability Act is available.
Savings of up to £1.2 billion from the abolition of the Audit Commission are over a 10 year period and include savings made by local authorities on external audit fees. An impact asssessment quantifies the costs and savings associated with the government's programme of reforms to local audit set out in the Act.
Office address and general enquiries
2 Marsham Street
London
SW1P 4DF
Contact form https://forms.communit...
General enquiries: please use this number if you are a member of the public 030 3444 0000
If your enquiry is related to COVID-19 please check our guidance page first before you contact us - https://www.gov.uk/guidance/coronavirus-covid-19-guidance-for-local-government.

If you still need to contact us please use the contact form above to get in touch, because of coronavirus (COVID-19). If you send it by post it will not receive a reply within normal timescale.
Published 10 March 2014