News story
Attorney General visits Falkland Islands to host international conference
Meeting promoted good governance in all territories under the British flag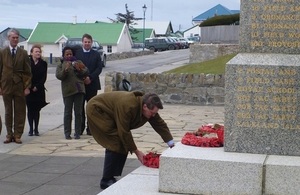 This week Attorney General Dominic Grieve lead Attorneys General and Law Officers from 11 Overseas Territories and Crown Dependencies to the Falkland Islands for an international conference aimed at promoting good governance and respect for the rule of law in all territories under the British flag. There was a particular focus on implementing and following up on commitments made this year in pursuit of the G8 priority of trade, tax, and transparency.
He used the conference to urge Law Officers from the Overseas Territories and Crown Dependencies to implement and follow up on commitments made in the course of the UK Government's G8 Presidency objectives around trade, tax and transparency and particularly work around beneficial ownership. There were also discussions on legal frameworks for clearer extradition arrangements and environmental protection. The conference has been meeting for over 20 years but this is the first time it has been based on the Falkland Islands, to demonstrate the diversity of British Overseas Territories and emphasise the UK's commitment to the islands and their sovereignty.
During his visit, the first official visit to the islands by a Cabinet-rank Minister in ten years, the Attorney General also laid a remembrance wreath, visited Goose Green and Bluff Cove and met members of the Legislative Assembly and Falkland Islanders to express the Government's commitment to protecting their way of life and self-determination. He also met local islanders, visited a school and local businesses and a cemetery for the Argentine dead.
The Attorney said:
I was very keen on holding this conference on the Falkland Islands to demonstrate the UK Government's strong commitment to the islands as a democratic, self-governing overseas territory.
I'm was very honoured that, in the week of Remembrance Sunday, I was able to pay tribute to the sacrifices that members of our Armed Force made thirty one years ago, and recognise the losses on both sides.
Overseas and Crown dependencies attending included:
Anguilla
St Helena
Bermuda
British Virgin Islands
Cayman Islands
Falkland Islands
Gibraltar
Montserrat
Pitcairn
St Helena
Turks and Caicos Islands
Guernsey
Jersey
Published 15 November 2013