Attorney General to prosecute 2 newspapers for contempt
Action to be taken over articles during the Joanna Yeates murder investigation.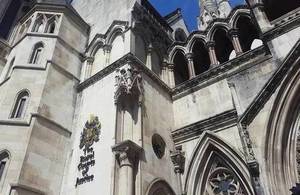 The Attorney General, Dominic Grieve QC MP, has obtained permission from the High Court to bring a prosecution under the Contempt of Court Act against the publishers of 2 newspapers in connection with coverage of the Joanna Yeates investigation.
The articles concerned Mr Christopher Jefferies and were published in the Daily Mirror on 31 December 2010 and 1 January 2011, and in the Sun on 1 January 2011.
The Attorney General can bring prosecutions for strict liability contempt (under the Contempt of Court Act 1981) in the public interest, where material has been published which he considers poses a risk of serious prejudice to a trial.
Section 1 of the Contempt of Court Act 1981 imposes a strict liability rule whereby conduct may be treated as a contempt of court on the basis of its tendency to interfere with the course of justice, regardless of any intention to do so.
Published 12 May 2011