Attorney General reflects on how the law of contempt is developing
Dominic Grieve says that in reporting crime, the press has been pushing at the boundaries.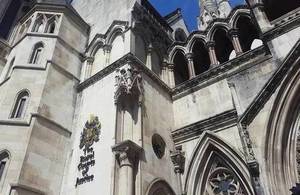 In a speech to the school of journalism at City University London, the Attorney General, Dominic Grieve QC MP, has reflected on a year which has included the first prosecution for contempt by a newspaper website, a juror whose use of Facebook caused a trial to be aborted, plus the action over the contempt risk posed by coverage of Joanna Yeates' former landlord Christopher Jefferies. He said that the press has been pushing at the boundaries and in a sense has subtly been seeking guidance as to what is or isn't acceptable.
He commented that, at times, it appeared to him the press had lost any sense of internal constraint and felt able, indeed entitled, to print what they wished, shielded by the right of 'freedom of expression' without any of the associated responsibilities. Yet, he reminded the audience, the Contempt of Court Act was in fact introduced as a liberalising measure following a 1979 decision of the European Court of Human Rights. It protects a journalist's sources from disclosure; the secret discussions of the jury in their retiring room and provides a defence in respect of the discussion of public affairs. It also provides for 'strict liability contempt'.
Looking back at the vilification of Christopher Jefferies, he suggested that although not a legal consideration, there is a moral imperative in all of this - the need to observe common decency when reporting on such cases. He said that 'citizen journalists' should not think they are immune to the law of contempt, that there is a certain belief that so long as something is published in cyberspace there is no need to respect the laws of contempt or libel. While he accepts the danger posed to the administration of justice by many bloggers is minimal, he said that we should not underestimate the potential for a blog or tweet to go viral.
Mr Grieve also warned politicians to be wary, that it ill serves the Parliamentary process if Court orders are openly flouted for no good reason, that it is not for a Parliamentarian to ignore the careful and measured approach of a Judge when deciding if an injunction should be granted.
Published 1 December 2011