Attorney General appoints new Junior Treasury Counsel
Attorney General announces new appointments to Treasury Counsel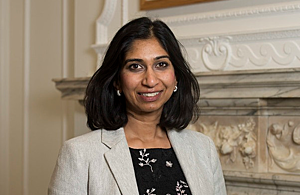 The Attorney General, the Rt Hon Suella Braverman QC MP, has appointed Kerry Broome, Julia Faure Walker, Ben Lloyd, Catherine Pattison, Sarah Przybylska, and Peter Ratliff as Junior Treasury Counsel to the Crown. The appointments will run for 3 years from 19 May 2020.
Duncan Penny QC is First Senior Treasury Counsel and heads the team of Senior and Junior Treasury Counsel.
The Attorney General said:
"Junior Treasury Counsel play a very important role in the criminal justice system. The expertise and high quality advice and advocacy of the six barristers I have appointed will help prosecute some of the most serious offences tried in this country, from fraud, to homicide, to terrorism."
The title "Treasury Counsel" derives from the days when all Crown Counsel at the Central Criminal Court were instructed by the Treasury Solicitor. That procedure was changed in 1908 and today the Treasury Counsel accept the majority of their instructions from the Crown Prosecution Service.
Treasury Counsel are appointed by the Attorney General. They are divided into 2 groups: Senior Treasury Counsel and Junior Treasury Counsel.