The Rt Hon Suella Braverman QC MP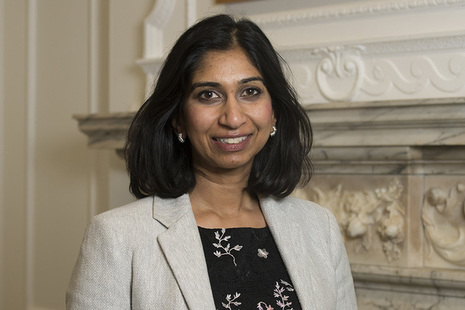 Biography
Suella Braverman was appointed Attorney General on 13 February 2020.
She was previously Parliamentary Under Secretary of State at the Department for Exiting the European Union from January to November 2018.
Suella was elected as the Conservative MP for Fareham in May 2015.
Education
Suella was educated at Heathfield School in London and went on to study Law at Queens' College, Cambridge. She gained a Masters in Law from the University of Paris 1, Pantheon-Sorbonne and qualified as a New York Attorney.
Career
Called to the Bar in 2005, Suella specialised in public law and judicial review. From 2010-2015 she was on the Attorney General's Panel of Treasury Counsel. She has defended the Home Office in immigration cases, the Parole Board in challenges by prisoners and the Ministry of Defence in matters relating to injuries sustained in battle.
Attorney General
The Attorney General is chief legal adviser to the Crown and has a number of independent public interest functions, as well as overseeing the Law Officers' departments. These are:
the Crown Prosecution Service
the Serious Fraud Office
Her Majesty's Crown Prosecution Service Inspectorate
the Government Legal Department
Other responsibilities include:
acting as principal legal adviser on questions of EU and international law, human rights and devolution issues
referring unduly lenient sentences to the Court of Appeal
bringing proceedings for contempt of court
intervening in certain proceedings to protect charities
dealing with questions of law arising on government Bills
legal aspects of all major international and domestic litigation involving the government
The Attorney General also holds the separate office of Advocate General for Northern Ireland. The Advocate General for Scotland has specific responsibility for Scottish law matters.