News story
Article by Edward Davey for The Scotsman Newspaper
SCOTLAND leads the world in energy. From wind, wave and tidal to the oil and gas industries, Scotland is seizing the opportunity its abundant…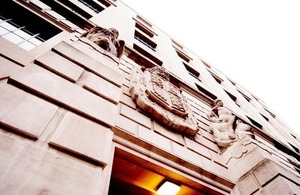 SCOTLAND leads the world in energy. From wind, wave and tidal to the oil and gas industries, Scotland is seizing the opportunity its abundant ­resources have to offer.
My department - a UK government department - has played a key role in this.
Cutting-edge technology and advanced industry are powering growth and ­creating jobs. Scottish universities and research centres are paving the way for the energy revolution we need now, and the financial expertise of this nation is fuelling growth.
The Scottish energy industry is clearly a success story - but also a forceful case for a flourishing Scotland in a united kingdom that is stronger together.
The reason lies in the economics of ­energy. A united kingdom offers Scotland a single market - millions more homes in demand of Scottish generation, millions more homes to spread the costs of energy infrastructure. Furthermore, Scottish generation benefits from nationwide energy networks that can support a diverse mix of generation which will become increasingly important as we bring on more ­renewables.
The evidence of the benefit of a Scotland in a united kingdom is there now for all to see. In 2011, Scotland accounted for around 40 per cent of the UK's total renewable electricity generation, including 45 per cent of the total wind output and the vast majority of the UK's hydropower.
Scottish companies, such as wavepower developer Pelamis, are at the forefront of cutting-edge technologies, and inward investment is coming from companies like Gamesa or Areva, which recently announced a deal to build a factory in Scotland making parts for wind turbines, delivering 750 jobs and more in the supply chain. Scottish companies are leading the way in carbon capture and storage too.
Beyond the low-carbon sector, the oil and gas industry is flourishing, as ­evidenced by the recent record-breaking licensing round. The industry is one of the UK's biggest investors, and, according to industry figures, supported 340,000 jobs, many of them in Scotland.
The UK government is ardent in its support of Scotland and energy. I recently attended the UK Green Investment Bank launch, which was chosen by the UK government to be located in Edinburgh and capitalised with £3 billion of UK funding.
I have recently secured agreement across the coalition for a tripling in support for low-carbon generation. The reforms in our energy Bill, will bring on a once-in-a-generation increase in low-carbon infrastructure investment - up to £110 billion in electricity alone. Scotland will feel the positive impacts on growth and jobs as much as anywhere else in the UK. I also believe we have the right oil and gas licensing and fiscal regimes to encourage investment and help small fields into production.
Some argue that Scotland's energy resources alone are a guarantee of prosperity. But I disagree - I believe this risks ­taking for granted some of the key features of our GB markets and UK-wide incentives, which have underpinned the successes we have seen.
The inescapable fact is that we are increasingly interdependent. Scotland plays a critical role in meeting the UK's energy needs and meeting our renewables and carbon targets. However, the single UK market, with a consistent regulatory, ­licensing and administrative regime is the key that has helped unlock Scotland's great enterprise. The single market also has overwhelming support from industry and, thanks to improved competition, consumers benefit too. It's an interdependence that works in all of our interests and it shouldn't be taken for granted.
But what of independence? To date, the Scottish Government has implied that much would continue as it is, but I question whether in practice this would be possible. Independence raises fundamental questions about the future of our single energy market and our UK-wide ­incentive schemes, which the Scottish Government must answer. Furthermore, the emergent view that Scotland would have to apply for membership of the European Union has huge ramifications across the board, including energy.
I welcome the Scottish Government's promotion of the benefits of a low-carbon economy, but on independence I believe it has got it completely wrong.
I believe that it is only by working ­together as proud nations within the UK that we will realise our full potential
Published 9 December 2012