World news story
Arsenal – The Dream comes true
Arsenal Football Club are the first English Premier League team to play in Vietnam.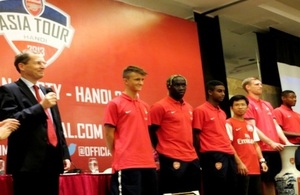 Arsenal FC's tour this week coincides with the celebration of the 40th anniversary of UK-Vietnam diplomatic relations.
This year and in the coming years, the UK and Vietnam will work together to Inspire our people to explore their talent and realise their ambition; get people to Learn together and benefit from excellent Vietnam-UK education co-operation; and encourage people to Innovate for UK-Vietnam prosperity.
Dr Antony Stokes welcomed the Arsenal and expressed his belief that the match between the Vietnamese National Squad and the Arsenal will be a success. He said:
I hope that the visit of the Arsenal will inspire Vietnamese people, especially the young and the socially disadvantaged, to play sport and to try football if they've not tried it before. Football is universally loved and it brings people from all over the world together. Though the UK and Vietnam are far apart in the map, we are close at heart in sport and particularly football.
Prior to the arrival of the Arsenal, a big event was held by the Arsenal Fan Club Vietnam in Hanoi. The British Ambassador attended this event, which drew the participation of more than 2000 fans across Vietnam.
The British Ambassador to Vietnam Dr. Antony Stokes wrote in his blog:
That is a special way for us to celebrate forty years of Britain and Vietnam's diplomatic relations, and to encourage more sports links between our two countries. The match comes one year after the famously spectacular London 2012 Olympics, and we want to share our experience as Hanoi prepares to host the 2019 Asian Games.
During its stay in Hanoi, the Arsenal players will meet their fans and visit Nguyen Dinh Chieu School for the Visually Impaired to inspire the children there.
Published 16 July 2013