World news story
Arsenal players play football with visually impaired children in Hanoi
Arsenal's Ignasi Miguel and Emi Martinez came to Nguyen Dinh Chieu School in Hanoi where they passed on tips and played a game of football blindfolded with visually impaired students.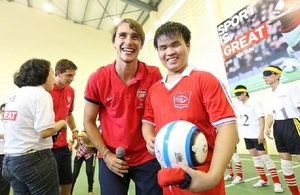 The activity was co-organised by the British Embassy and British Council Vietnam on the occasion of Arsenal's Asia Tour 2013.
Since 2011, the British Council Vietnam has worked with Nguyen Dinh Chieu School to provide opportunities for visually impaired students to play football.
In this version of the beautiful game the players all wear blindfolds and use a ball with a bell in it, so they need the crowd to be silent.
The 200 students watching did their best to keep quiet but occasionally just couldn't help themselves.
Despite the deafening cheers the teams scored four goals and the Arsenal players had a great time.
After the match Ignasi Miguel and Emi Martinez handed out prizes to the best players and took questions from the students.
Thai Van Khoa, Principal at Nguyen Dinh Chieu School said:
Our football team of visually impaired students was founded in 2003. Since then, the team has won many titles in national sports competitions for disabled students. It is our great pleasure to welcome the Arsenal players to our school. This is the first time our visually impaired students have got the opportunity to meet the players that they adore in person.
Acting Director of British Council Vietnam Ian Robinson said:
I am delighted to see the overwhelming excitement of both the visually impaired and sighted students of Nguyen Dinh Chieu School. The British Council Vietnam has run many activities to enable disadvantaged children to learn to play football, helping to inspire them and build confidence and team work through sporting activities.
Founded in 1982, Nguyen Dinh Chieu School (Hanoi) is home for 1,300 students, of whom 154 are visually impaired. .
Published 17 July 2013
Last updated 17 July 2013
+ show all updates
update text
First published.