Press release
Around 300,000 people escape long-term unemployment thanks to the Work Programme
About 300,000 long-term unemployed people have found lasting work using the Work Programme – an increase of 44,000 people in jobs in the last 3 months.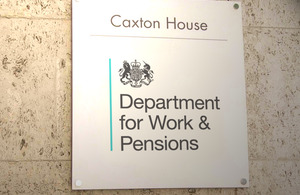 The Work Programme was launched in June 2011 and overhauled how the very hardest to help claimants are supported off benefits and into work through flexible and tailored support where providers are paid by results.
Today's (19 June 2014) figures come off the back of statistics published earlier this month showing record levels of employment and long-term unemployment falling by 108,000 over the past year – the largest annual fall in 16 years.
Minister for Employment Esther McVey said:
Long-term unemployment has dropped and the Work Programme is playing its part by making sure around 300,000 jobseekers have got a regular wage, the right skills and opportunities for today's jobs market.

The vast majority of unemployed people find a job quickly, but we know the minority of claimants who are in danger of becoming long-term unemployed need extra help. As part of the government's long-term economic plan, we introduced the Work Programme to transform how this is done, and we won't hesitate to keep driving up performance to get the best deal for claimants and taxpayers.
The figures published today show Work Programme performance is continually improving since being launched in June 2011, and continues to do so.
Up to the end of March 2014, 296,000 people have so far found lasting work – up from 132,000 a year earlier. There are a further 26,000 people who we have identified who have spent at least 6 months in work (or 3 for the hardest to help), but where the provider has not claimed a job outcome.
The vast majority of those who find sustained employment are remaining in work beyond the 6 month point (or 3 for the very hardest to help). Over 274,000 participants have gone on to work past this point.
Performance has been continually improving, with all contracts meeting the Minimum Performance levels in the third year of the programme. Of the most recent group who joined the scheme in March 2012 and have been on the scheme long enough to be counted in these statistics, nearly 28% have been placed in a sustained job. This is up from 22% for those who joined at the beginning of the programme. Young people have proportionately secured the most number of sustainable jobs out of any group, with 71,640 having done so since the programme began.
Work Programme providers get paid the majority of their money when someone has stayed in work for 6 months, or 3 months for some of the hardest to help, which means that many more people will have started work but not reached the 6 month point yet. Industry figures show over 550,000 people had started a job thanks to the Work Programme.
Previous schemes didn't do enough for disabled people, which is why the Work Programme focuses on giving some of the hardest to help people 2 years of support, and offers providers higher prices for working with these claimants. We know that this group requires a great deal of support, and that many will have been out of work for a number of years – decades even.
Work Programme providers have improved significantly, but we have always been clear that we want to continue to drive up performance, which is why a range of new performance measures are being established to ensure as many people as possible are helped into work, and to give the best value to the taxpayer.
Case studies:
The Care Quality Commission's Newcastle office has taken on 7 young people from the Work Programme thanks to Ingeus.
Stephen Leck from Chapel House is one of them. He said:
I had been unemployed for 9 months and spent most of my time applying for every vacancy I came across. I was determined, but I was going wrong somewhere. With no routine and little success, the days were getting longer and longer." Ingeus worked with him on things like enhancing his CV, getting noticed in job interviews and looking for the kind of jobs that interested him. "I was both surprised and delighted when they said they wanted me", he said.
Care Quality Commission's Joanne Thompson said:
The Work Programme is really helping young people in this city get their first foot on the ladder of real careers.
Amberbanks Care Home for the elderly in Blackpool has taken on 7 recruits from the Work Programme, one of whom was Netty Bryan. After spending 28 years out of work and suffering two breakdowns, Netty was resigned to spending the rest of her life getting by on benefits. A4e supported her with advice on how to write a CV and covering letter, confidence building and interview techniques, which paid off when Netty was given a job. Netty said:
It was my first job interview in 20 years. I never in a million years expected to get it and when I did I was walking on air. I still am. I love working, I love my job, I love the older people I work with. I feel like I've found my vocation. I'm nearly 50 but it's never too late.
More information
The Work Programme was launched in June 2011 and is aimed at those at risk of long-term unemployment. Providers are paid according to results to get people into work, with extra incentives to support the hardest to help.
Providers have flexibility to innovate and to design support that addresses the needs of the individual and the local labour market, rather than having to follow one size fits all processes. They get a small amount of money up front but most payment comes after someone has been in work for up to 6 months, and extra payments for each month afterwards.
Once referred, claimants remain on the Work Programme for 2 years. Even after a participant has started a job their provider will offer them in-work support for the balance of their time on the programme.
Outcome payments are usually made after someone has been in work for 6 months, or 3 months in the case of the very hardest to help.
By the end of March 2014, 1.44 million people had been referred to the Work Programme and been on it long enough to count in today's employment performance figures.
Read the Work Programme official statistics
Section 4.1.1.3 of the technical annex to the statistics release provides information on the analysis conducted relating to individuals who have spent sufficient time in work but where a Job Outcome payment has not been paid.
Contact Press Office
Media enquiries for this press release – 0203 267 5161
Press Office
Caxton House
Tothill Street
London
SW1H 9NA
London Press Office (national media and London area enquiries only – not questions about personal claims) 020 3267 5144
Out-of-hours (journalists only) 076 59 108 883
England and Wales (local media enquiries) 029 20 586 then 097 or 098 or 099
Scotland (local media enquiries) 0131 310 1122
Follow DWP on:
Published 19 June 2014