Army signaller wins Churchill Medal 2012
The Churchill Medal for 2012 has been won by British Army engineer Sergeant Simon Nurse, of the Royal Corps of Signals, for his innovative work in support of Op HERRICK.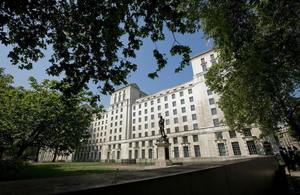 The 2012 Medal was awarded to Sergeant Simon Nurse from 15th Signal Regiment (Information Support) for his outstanding contribution to the development of the Op HERRICK Cortez network. His technical innovation and ingenuity served to drive forward the networking of situational awareness across the UK deployed operation. This demonstrated his engineering knowledge and personal commitment to making a difference on operations.
Sgt Nurse became the technical authority on the Cortez network, utilised for the force protection of troops deployed at operational bases in Afghanistan. He employed previous engineering experience to propose a means of improving the network carrying out a laboratory test and producing a technical document that led to a network upgrade in Theatre, which became known as Operation NEWCASTLE. During the Op NEWCASTLE network upgrade, Sgt Nurse gave advice and helped implement changes. Critically, he submitted an accreditation action plan to PJHQ which gained approval, something that had been a major stumbling block for industry.
The award was named after Sir Winston Churchill and was established in the 1940s to recognise the valuable contribution engineers made to the Second World War. Past winners include the acclaimed inventor of the jet engine, Sir Frank Whittle, Sir Geoffrey de Havilland, Sir Bernard Lovell and Sir Christopher Cockerell.
The Churchill Medal was not presented for a short period, but in 2011, at the request of the Churchill family, it was decided to re-introduce the award.
Sgt Nurse received his award together with the 2011 Churchill Medal winner, Flight Lieutenant David Ramsey of 90 Signals Unit RAF, at the Institution of Mechanical Engineers (IMechE) annual defence lecture, held in London on 2 July. See Related News to read about Flt Lt Ramsey's award.
The servicemen received their awards from IMechE Chief Executive Stephen Tetlow, who had himself been head of engineering for the British Army.
Sgt Nurse said:
It's fantastic to have won this medal, and to have received this recognition that I have done a good job. I think it's always rewarding when someone takes the time to say thank you and that what you've done is great.

I'm sure that most military engineers would agree with me that you do what you do for your job and for your duty, and there are many people currently serving who do amazing things but don't necessarily receive any plaudits, so this is a nice pat on the back that my efforts have been noticed.
Air Marshal Sir Kevin Leeson KCB CBE, the Air Member for Materiel and Chief of Materiel (Air), was also present on the evening. He said that the quality of nominations for the Churchill Medal reflected the "outstanding engineering support of operations in Afghanistan, where we continually seek to exploit technology to achieve success and protect our servicemen and women whilst they continue to operate in dangerous and demanding conditions".
Sir Kevin added:
This work is testimony to exactly the type of skilled, ingenious and industrious engineers we have in the Armed Forces today and need for the future.
Published 31 July 2012