News story
Army Olympic gold medallist awarded MBE
Captain Heather Stanning has been awarded an MBE by Her Majesty The Queen in the New Year Honours for her achievements at the 2012 Olympics.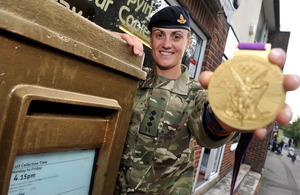 Captain Stanning, of 32 Regiment Royal Artillery, and her rowing partner, Helen Glover, were the first British Olympians to win gold medals in the 2012 Olympic Games, and the first female pairing to win Olympic gold medals in a women's rowing event at the Games.
Speaking about her award, Captain Stanning said:
I am extremely proud and honoured to be awarded an MBE. After an amazing year this really is the perfect end. I can't thank the public, the Army and my family enough for all the support they have given to me in 2012.
Now I am looking forward to 2013 and my planned deployment to Afghanistan, which I know will be as challenging and rewarding as everything I achieved in 2012.
Captain Stanning was commissioned from Sandhurst in 2008 before joining 32 Regiment Royal Artillery. Two years ago she was released from Army duties to allow her attempt to row into Olympic history.
The pair had a number of successes leading up to the Olympics, notably winning all 3 World Cup regattas prior to the London Games. This level of form and confidence was carried into the Olympics, and through months of hard work, intense training and determination, the pair won Olympic gold in the women's coxless pairs.
Captain Stanning has now returned her unit in the Army and is due to deploy to Afghanistan later this year.
Published 2 January 2013