Army dominates Inter Services Rugby League
For the first time in the history of Inter Services Rugby League, one Service has claimed a Grand Slam, with the Army emerging unbeaten against the RAF.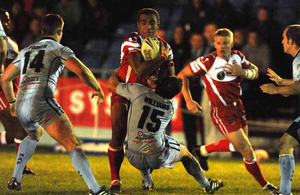 Having already faced the Royal Navy teams, the Army turned their attention to the competition from the RAF in the 1st XIII Men's, 1st XIII Ladies, Men's Academy and Veterans categories.
In the 1st XIII Men's category, the Army team were victorious for the first time in seven years as they beat the Royal Air Force team 36-8.
Although nerves played a large part to begin with, the Army players, including 'Man of the Match' Kingsman Yabia, went on to take an impressive lead over their competitors.
Captain Andy Sanger, Royal Engineers, Head Coach of the Army Men's 1st Team, said:
I've done some amazing things throughout my rugby career both as a player and a coach, but this is probably the most special. To have worked with a group of lads who have been so dedicated, selfless and courageous, purely because of their love of the game and their immense team spirit, is truly humbling.
As the RAF and Army Men's Academies came face-to-face, although the RAF dominated the first stanza, the Army team's hard running and technical aggression in the tackle area resulted in a final score of 40-16.
Staff Sergeant Stewart Ridsdel, Royal Logistic Corps, Head Coach of the Army Men's Academy, said:
We have had a fantastic season and this has topped it off perfectly; we have won five from five, including RAF, Royal Navy and Royal Marines. It doesn't get much better than this.
Less than 24 hours before, in the 1st XIII Ladies' match, the RAF had to forfeit the match due to the loss of some key forwards. With a 54-4 defeat for the RAF last season the Army Ladies had been confident in the build up to this unfortunate culmination to their season.
Next up was the Veterans category where the Army team physically dominated the match from start to finish, showing speed, skill and aggression that belied their ages, which led to them beating the RAF team 58-6.
The RAF were unable to match the highly physical, high impact rugby played by the Army which inevitably ended in the Army victory.
Published 24 September 2010