Army and RAF help combat Mount Kenya fires
UK Armed Forces personnel are helping to put out a fire on the slopes of Mount Kenya which is destroying the habitat of wildlife.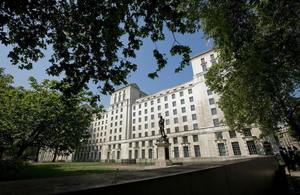 An RAF Puma helicopter was scrambled to carry out an initial reconnaissance of the blaze following a request for help by the Kenya Wildlife Service.
Joint Helicopter Force (Kenya) Commanding Officer, Wing Commander Polly Perkins, said:
The Mount Kenya forest fires have been burning at varying degrees of intensity. Due to the recent dry weather conditions this has resulted in extreme forest fires which are threatening local wildlife.
Following the assessment a joint RAF and Army team deployed to the Mount Kenya National Park to take command of the military operation to put out fires on the slopes of Kenya's highest mountain which are already reported to have consumed hundreds of acres of forest.
RAF personnel from the Tactical Supply Wing went with them to refuel the civilian helicopters engaged in water bombardment.
The remainder of the team comprised 30 locally employed civilians qualified as firefighters, led by RAF Chief Technician Tim Sugars, a former Mountain Rescue Team Leader.
Mount Kenya is the second-highest peak in Africa, at 5,199 metres (17,057 feet), and is a UNESCO (United Nations Educational, Scientific and Cultural Organisation) World Heritage Site.
British Army Training Unit Kenya (BATUK) soldiers, including Army Signallers from 21 Signal Regiment (Air Support), are providing command and control for the firefighting response and using British military vehicles to move firefighters close to the flames.
Major Richard Clarke from BATUK said:
Both the Army and RAF have responded to the Kenyan request for military assistance quickly and effectively, making a significant impact on the current situation. All are aware, from local people to government ministers, just how much British forces in Kenya have contributed to efforts to combat these fires.
We need your help! We are trying out designs for a new single website for all of government and we'd love your feedback. Please visit the 'Government beta site' by clicking on the link under Related Links.
Published 22 March 2012