Arms industry: Alan Duncan calls for ethical trade treaty
Britain will work to secure a new arms trade treaty this summer to introduce international regulations of the arms trade for the first time.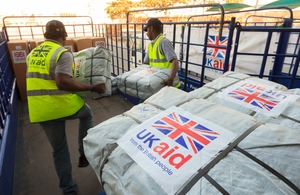 Today Development Minister Alan Duncan announced that the UK will take a leading role at a month long session at the United Nations in July to secure an international treaty to tackle the scourge of unregulated and irresponsible arms sales.
The treaty will close loopholes that currently allow corruption to thrive and weapons to be diverted on to the illicit market. It will be a legally binding agreement supported by monitoring and reporting mechanisms.
Britain will demand that:
Before exporting arms, States must satisfy criteria including human rights, impact on development, exacerbating conflict and the risk of corruption.
The treaty must be broad, covering everything from fighter jets to rifles and ammunition.
States must demonstrate transparency. This must include publication of a national export control list and detailed reports on arms exports.
Controls on arms brokering must be included, which will close loopholes, by ensuring brokers are accountable. Member states must prosecute those involved in corrupt practices.
In a speech at the International Institute for Strategic Studies, Alan Duncan spoke to an audience of defence industry companies like Rolls Royce and NGOs including Amnesty International.
Development Minister Alan Duncan said:
It is scandalous that there is currently no international regulation of the arms trade.

The UK has one of the strongest arms export control systems in the world, which is why we are the forefront of these negotiations. The defence industry has produced pioneering technology, which has undoubtedly improved our world. Honest defence companies have nothing to fear from an international treaty. However, it is time to stamp out unscrupulous, greedy and immoral practices which lead to bloodshed and war.
Pre-negotiations have been proceeding well - despite some inevitable resistance. There are challenges in persuading some UN members of the need to have a broad set of criteria, which take into account the impact of arms sales on sustainable development and human rights. Equally, there are some States that are reluctant to see a wide scope including small arms, light weapons and ammunition.
The UK is leading negotiations, alongside other States including lower income countries such as Kenya and Costa Rica. There is also a broad range of vocal support including from the European Union, sub-Saharan Africa and the defence industry itself.
Published 17 May 2012