Armed Forces thanked for outstanding Olympics duties
The great and the good as well as stars of Team GB have thanked the British forces who helped provide security at the London 2012 Olympic venues, reports Lorraine McBride.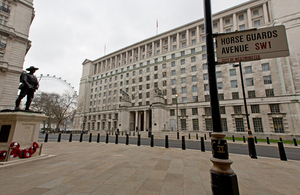 Prime Minister David Cameron said today that London had hosted a 'safe and secure' Olympics and praised the Armed Forces, police and volunteers for making the Games possible in what he said had been a successful global advertisement for Britain. He described them as the 'very best of Britain'.
Mr Cameron's praise comes just days after London 2012 Chairman Lord Coe called the Armed Forces and their involvement in London 2012 one of the 'defining features' of the Olympics. Last week, Lord Coe visited a few of the more than 18,000 military personnel providing security at Games venues both in and outside London.
Over the weekend, sporting stars past and present, including cyclist Jason Kenny and rowing legend Sir Steve Redgrave, hosted more than 100 Service personnel at a reception at Team GB House, near the Olympic Park in Stratford.
Taking time out from competition, GB Olympians from scores of disciplines mingled with soldiers, sailors and airmen and women to thank them personally for all their efforts, and to share views and anecdotes about the UK's stunning success at London 2012.
Formally thanking the visitors for the Olympics support, Andrew Hunt, British Olympic Association (BOA) Chief Executive and Team GB Chef de Mission, said:
These have been the most successful Olympics in over 100 years, and your contribution has been central to that. Just over a month ago you helped avert what might have been a crisis, with thousands of troops mobilising in just a matter of days.
Despite long working days and cancelled leave, you have all been unfailingly cheerful, helpful and positive. You have been true role models to everyone in this country, and I thank you all.
All the athletes present were unanimous in their praise for the British forces' support.
Rowing gold medallist Tom James, whose father Mike is himself a retired Army major, said:
They've done an amazing job, always professional and polite. It's been great to see them helping out.
Both Jen McIntosh and Elena Allen of the Team GB shooting squad echoed this:
It's been great having them around; they really help promote a feeling of security and they've done a great job.
For his part, cycling Olympian Jason Kenny commented:
Every time I went through the security gates they came across as professional, efficient and courteous. They really made me feel confident things were been handled competently. A big vote of thanks to them.
Social media have also been buzzing with praise for the efforts of Armed Forces personnel.
Olympics TV anchorman Gary Lineker tweeted:
Special word for the great work done by our troops. Always a smile, a friendly word and a camera. Thanks all.
BBC sports presenter Clare Balding said on Twitter:
Gamesmakers, police and Armed Forces a big thank you for making the Games so special.
Olympic gold medallist cyclist Sir Chris Hoy added his praise:
To the volunteers, the Armed Forces, the police, the GB public, the organisers, the media, the weather, THANK YOU!! What a show," he tweeted.
Royal Navy officer and gold medallist in the men's coxless fours, Lieutenant Pete Reed, wrote:
Walking with my men to the GB house after party. We have a lot to celebrate. Thank you champs, for all your messages and support!
Swimming commentator and former Olympic swimmer Sharron Davies expressed gratitude, tweeting:
Special thanks today from the BOA for our armed forces, they have been INCREDIBLE but remembering those still in far less safe places too…
Footballer David Beckham was just one of many sports stars in a string of high-profile personalities to show his appreciation for troops who won widespread praise for their cheerful efficiency in making the Games run smoothly.
Mr Beckham, who was a leading advocate behind Britain's successful bid to host the Games, visited servicemen and women from the Royal Navy, Army and RAF at Stratford's Olympic Park to see first-hand the work that was done to keep the Games safe and secure. He took the opportunity to thank everyone for their efforts.
Meeting troops from the Adjutant General's Corps, the Parachute Regiment, 5th Battalion The Royal Regiment of Scotland and 3rd Battalion The Royal Anglian Regiment, and posing for photos, Mr Beckham told the soldiers how much their contribution had meant to everyone involved in the organisation of the Games.
Marathon runner Paula Radcliffe tweeted her own support:
Just to say the games makers, officials and helpers all over London have been the best and the nicest I have ever seen at five Olympics. Xx
Adding his own backing, BBC Olympics correspondent James Pearce was just one of many presenters and journalists who took to Twitter:
One of biggest negatives of Olympics turned out to be one of biggest positives. G4S replacement by Armed Forces made Games friendlier and safer.
Many heartfelt comments were also left on the Armed Forces page of the Facebook social network site. A photograph tagged 'Our boys and girls are doing a fantastic job at the Olympics' was 'liked' by almost 4,500 followers.
In all, some 18,200 members of the British Armed Forces have supported the Olympic Games, providing a whole range of land, naval and air expertise. At the Olympic sites, support included working with civilian agencies to check visitors on arrival at events, as well as ceremonial duties including flag-raising at all the medal presentations.
Over 170 members of the Armed Forces have acted as flag-bearers for ceremonies at the Olympic Games, taking part in over 100 'team welcome ceremonies' and 805 'victory ceremonies'.
Published 13 August 2012