Armed Forces rowers win gold at World Cup
Royal Navy and Army rowers have taken a step closer to the London 2012 Olympics with gold medals at the Rowing World Cup in Lucerne.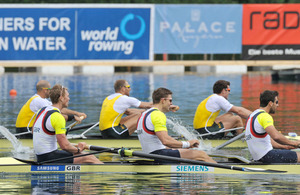 Lieutenant Pete Reed of the Royal Navy came home victorious in the coxless fours while Royal Artillery Captain Heather Stanning bagged gold in the women's coxless pairs.
Lt Reed, along with Alex Gregory, Tom James and Andy Triggs Hodge, won a dramatic final on Sunday 27 May to take gold, beating Australia by just over a second.
The Australians decided to lay the gauntlet down early in the final and by 500m they had a half-length lead over the British boat.
Yet, in a powerful display of determination, the GB quartet came from a length behind to take the lead near the finish line, crossing it with a respectable time of 5 minutes and 50.84 seconds.
The Australian boat finished with a time of 5:51.98, with Greece third at 5:56.61.
Lt Reed, who joined the Royal Navy in 1999 as a Marine Engineering Officer, said:
"We had a feeling before the race that they would try to do something special. That's the way they raced in Bled last year, and in the Olympic final as well.
That race reminded me a lot of the Olympic final from Beijing. The Australian boat is always very classy, but moving past them in the last 500 is something we hadn't seen from our crew yet, and that can be massively improved. An exciting race and good for the event - really pleased to get one up.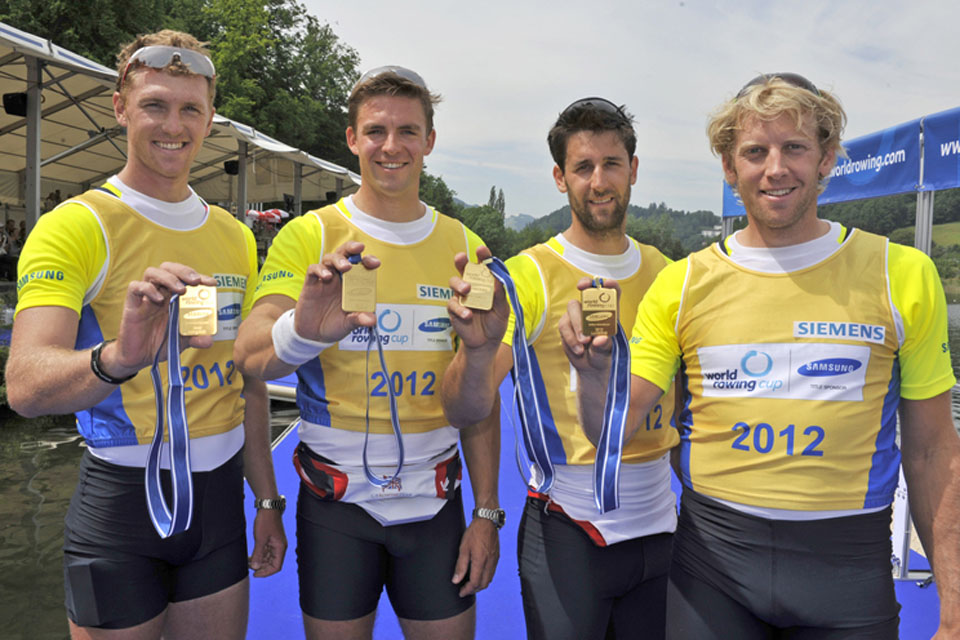 Lt Reed won an Olympic gold medal as part of the coxless four in Beijing and is hoping to be selected for this year's Games. The announcement is due on 6 June, but the success of the World Cup quartet may be a good indication of who will be picked for the team:
We now have to put the cherry on the icing and hope we are also the team picked for the Olympics," said Lt Reed.
It would be a great opportunity to defend our titles that we won in 2008 in Beijing, and there is a lot of excitement and a lot of enthusiasm at the moment - the boat is really buzzing.
Meanwhile, Captain Heather Stanning and rowing partner Helen Glover continued their march towards Olympic qualification with a second World Cup Rowing series gold medal in the women's coxless pairs, following on from their win in Belgrade earlier in the month.
The win in Lucerne was made all the more significant as the New Zealand team, their main rivals in the women's elite rowing competition, could only manage third place. There is only one more World Cup race this year, on 15 June, by which time Captain Stanning and Helen will know whether they are in the GB rowing team for the London Olympics.
Published 29 May 2012