Armed Forces Redundancy Calculator now online
An Armed Forces Redundancy Calculator is available on the MOD website which gives a forecast of benefits for prospective redundees under the Armed Forces Redundancy Programme announced yesterday.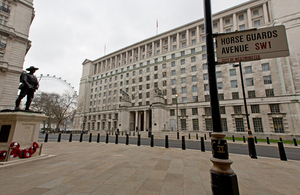 The calculator allows Service personnel to input their details to provide a forecast of their redundancy and pension benefits based on the redundancy exit date and the promulgated redundancy rules.
In October 2010, following the Strategic Defence and Security Review, the MOD announced that it would be reducing the number of military personnel by 17,000 across all three Services: 7,000 from the Army, 5,000 from the Royal Navy and 5,000 from the RAF.
While some of these reductions will be achieved through a decrease in recruiting and not replacing those who leave, there will still need to be around 11,000 redundancies.
Each Service will run a number of redundancy tranches over the next four years with reductions planned to be fully achieved by April 2015.
Yesterday the RAF released the details of the first tranche of their redundancy programme, detailing the branches and trades from which they are seeking to make redundancies. Although this is a compulsory programme, volunteers will be sought. See Related News for more details.
The Army and the Royal Navy are expected to release similar details at the beginning of April 2011.
There is much reporting in today's media on the Armed Forces Redundancy Programme with claims that Service personnel currently serving in Afghanistan are facing redundancy.
The Secretary of State for Defence has made clear that on the dates that redundancy notices are issued (1 September 2011 for the Army and RAF, 30 September 2011 for the Royal Navy) no-one who is preparing for operations, deployed on operations or recovering from operations will be made redundant unless they have volunteered.
Only certain trades, specialisms and ranks (known as fields) within the Armed Forces will be considered for redundancy.
No qualified RAF pilots were included in the first RAF tranche of redundancies announced yesterday.
The MOD has taken great care to ensure that Armed Forces personnel and their families are fully informed about the redundancy programme. We are aiming to give them a level of certainty about their future and inflammatory reporting is irresponsible and extremely unhelpful.