News story
Armed Forces Minister visits air cadets
The work of the committed volunteer staff who keep the RAF's air cadets flying has been praised by Armed Forces Minister Mark Francois.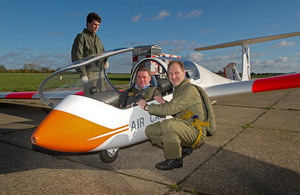 Mr Francois made the short trip to the Ministry of Defence Police and Guarding Agency at Wethersfield to see for himself what goes on at 614 Volunteer Gliding Squadron.
Staffed by RAF Volunteer Reserve officers and civilian volunteers, the squadron provides gliding training for cadets from the Air Training Corps and Combined Cadet Force (RAF).
The squadron operates the Grob 103 'Viking' aircraft, a two-seat winch-launched glider, and runs a variety of different courses based on the age and experience level of the cadet being trained.
These include the basic gliding induction course, which provides younger cadets with a familiarisation flight and an introduction to gliding, and the gliding scholarship for those at more advanced levels.
Ultimately, an air cadet who performs well in their gliding training can gain the necessary qualifications to fly a glider 'solo' before they are old enough to pass a driving test.
During his visit, Mr Francois chatted to gliding squadron staff and some of the cadets undergoing training.
He saw how the young cadets who attend a volunteer gliding squadron are actively involved in the running of their day's gliding, assisting with getting the aircraft off the ground and some of the associated administrative tasks.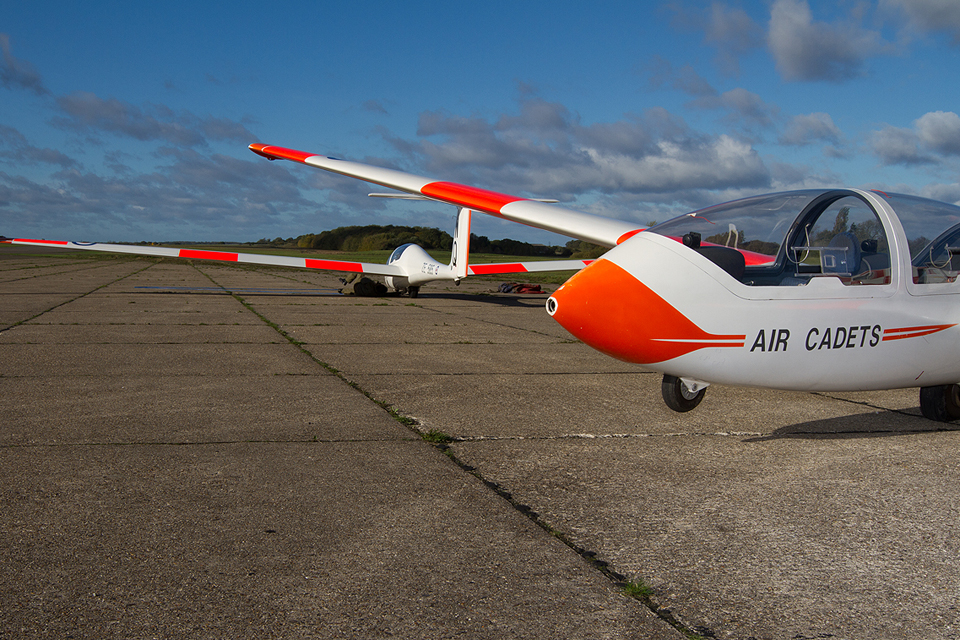 The minister was also able to get airborne himself and experience a brief gliding induction course of his own, as the pilot, 614 Squadron's commanding officer, Squadron Leader George Capon, talked him through the basic training drills that the cadets experience.
Mr Francois said:
I have been very impressed by the set-up at Wethersfield, the commitment of the volunteer instructors who offer this high quality flying training, and the dedication and skill of the young air cadets who I met.

I found my visit to 614 Volunteer Gliding Squadron both fascinating and inspiring and I would encourage any young people who are looking for a new interest to give the Air Training Corps serious consideration.
Mr Francois' visit coincided with the end of a week-long course for air cadets from London and Essex.
All 4 of the cadets on the course passed, having completed a solo flight in the Viking, and Mr Francois concluded his visit by presenting each cadet with their official certificates and badges – known as 'wings'.
Squadron Leader Capon said:
It has been an absolute privilege to have the minister visit and present the cadets with their wings. I am always pleased to have the opportunity to extol the virtues of what we do and show off what our cadets can achieve.
More information about getting involved with the Air Training Corps as a cadet or volunteer instructor is available at www.raf.mod.uk/aircadets
Published 8 November 2013