News story
Armed Forces honoured at 'night of heroes'
The excellent work of the Armed Forces and the people who support them was recognised last night at the fifth annual Sun Military Awards.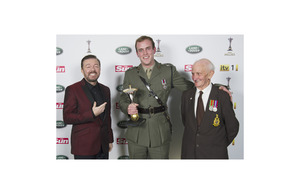 The awards ceremony, known as 'The Millies', took place at the Imperial War Museum London on Thursday 6 December.
The awards fall into 9 main categories celebrating the professionalism and bravery of the men and women working in our Armed Forces around the world. They also recognise members of the public who, in various ways, work tirelessly to support our Service personnel.
Alongside the main categories, the judges made 2 further awards for special recognition. One award was presented to the Complex Trauma Team at the Defence Medical Rehabilitation Centre Headley Court for their outstanding contribution to the recovery of our injured Service personnel. Special tribute was also paid to all three Services for their crucial and widely praised role during the London 2012 Olympic Games under Operation OLYMPICS.
Their Royal Highnesses The Prince of Wales and The Duchess of Cornwall were guests of honour at the event. They were joined by the Prime Minister, David Cameron, and his wife, Samantha, along with Defence Ministers and Military Chiefs, senior government and political figures and stars from the worlds of entertainment and sport to pay tribute to these exceptional individuals.
'The Millies' are organised by The Sun newspaper in close collaboration with the Ministry of Defence.
Admiral Sir Mark Stanhope, the First Sea Lord and Chief of the Naval Staff, said:
Over the last five years, the Sun Military Awards have shone the spotlight on the courage, tenacity and professionalism of our Armed Forces. This year has been no exception, showcasing these outstanding men and women serving the nation's interests both across the world on operations and in the UK.
The ceremony, including unique footage of shortlisted individuals and teams at work, plus reconstructions of some of the acts of heroism nominated for awards, will be televised in the UK on Friday 14 December at 2100hrs (GMT) on ITV1.
A full list of winners can be found on The Sun's website.
Published 7 December 2012