Armed Forces Day: "giving thanks to those who give so much"
Deputy Prime Minister Nick Clegg has praised the work of the armed forces ahead of today's Armed Forces Day.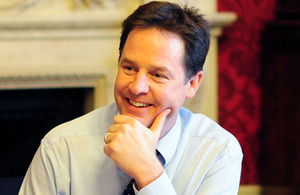 Across the country people are getting involved with events both locally and nationally in honour of our serving troops, veterans and their families.
Mr Clegg said he was "delighted to say thank you to those in our armed forces who give so much to our country".
The Deputy PM said:
Armed Forces Day gives us the chance to celebrate the outstanding contribution that our armed forces give day in day out to defend the United Kingdom and it's interests and contribute to international peace and security.
Mr Clegg also paid tribute to service families, veterans, reservists and cadets. He said: "15% of our forces are reservists who remain key to the future of our defence".
Read more: Armed Forces Day website
Published 25 June 2011