News story
Armed Forces Day 2012: message from the Deputy Prime Minister
The Deputy Prime Minister has recorded a video message for Armed Forces Day.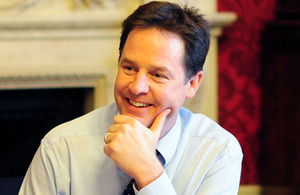 In it, he speaks of the "huge debt of gratitude" owed to our servicemen and women.
Read the full transcript here:
Today I'm joining the rest of the country in saying thank you to our Armed Forces. We owe our servicemen and women a huge debt of gratitude for their dedication, resilience and sacrifices. For their incredible work, for putting their lives at risk so we can live in safety, for being prepared to leave their loved ones behind when they serve our country.
From cooks, to medics, to volunteers, to troops on the front line in Afghanistan - every single contribution deserves recognition and celebration - as do those of our reservists, veterans and cadets.
Last November, I welcomed back to RAF Waddington in Lincolnshire servicemen and women who had taken part in the Libya campaign. Their brave efforts were vital in ending Gaddafi's brutal regime and it was an honour to see them return home and to congratulate them in person.
I hope that the celebrations taking place up and down the country today go some way to showing how grateful we are for the work of all our armed forces and how much we recognise their contribution. And I also want to thank their families - who are parted from their loved ones for long periods of time, who live with uncertainty, and whose patience and bravery is recognised by us all.
We are immensely grateful. Thank you.
Published 29 June 2012