Armed Forces Day 2012 launched in Scotland
A Royal Marines Band and representatives from all three Services launched Armed Forces Day 2012 in Scotland today at MOD Caledonia in Rosyth.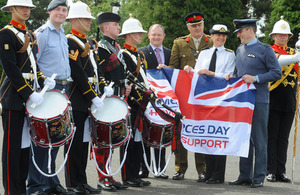 The UK's fourth Armed Forces Day will be held on Saturday 30 June 2012 and is the annual opportunity for the nation to show its support and appreciation for the men and women who make up the Armed Forces community - serving troops, their families, veterans and cadets.
Throughout Scotland many people are getting involved and local businesses are showing their support. Events are being planned in cities and towns with bands, parades, displays, activities and civic receptions.
Commander Edinburgh Garrison, Colonel Philip Bates, said:
Local authorities and communities across Scotland are really working hard to provide a great day full of celebrations in support of our Armed Forces.
Many of the military units based in Scotland are regularly deployed on operations in Afghanistan, making personal sacrifices to defend the UK from terrorism and contribute to international peace and security.
They are very grateful for the incredible support that the people in Scotland show to them and their families - it gives them strength and helps them focus on the job at hand.
Commanding Officer of HMS Portland, Commander Sarah West, said:
I am delighted to be representing the Navy to launch Armed Forces Day [AFD] 2012 and would like to thank local communities for their continued support. HMS Portland's staff will be taking part in Edinburgh's AFD event on the 30th of June in Princes Street Gardens.
Wing Commander Roddy Dennis, Officer Commanding 6 Squadron at RAF Leuchars, said:
The RAF has always enjoyed close links with the people of Scotland and it is very heartening to see how well-supported Armed Forces Day continues to be.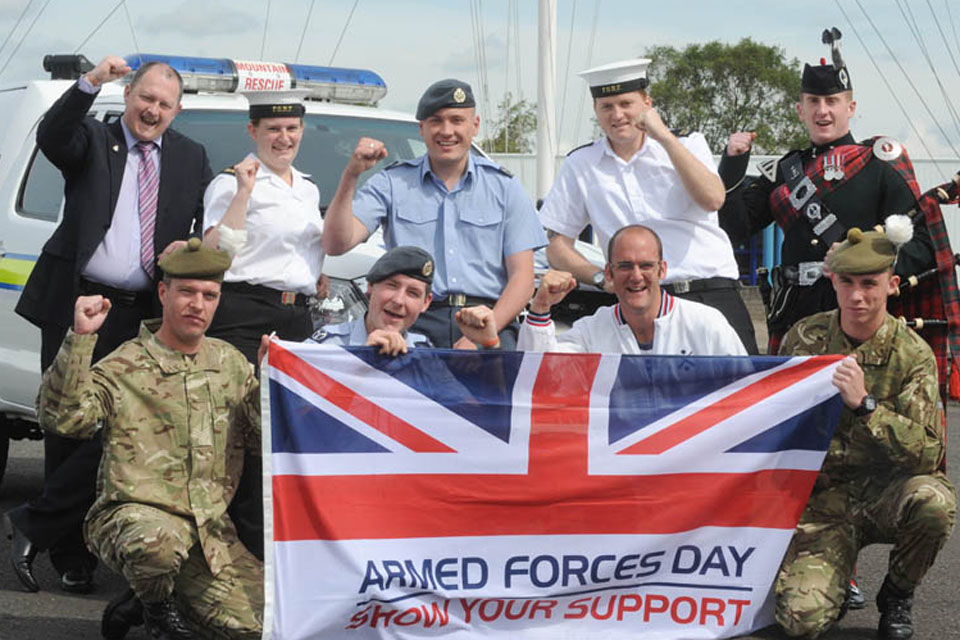 "Much of the work that we do is geared towards protecting civilian populations on the ground - here in the UK, in the Falkland Islands, in Afghanistan, and last year in Libya - so it is enormously gratifying to see our local communities come out to show their support.
On behalf of the RAF, 6 Squadron will recognise this support on Armed Forces Day by flying over three of Scotland's finest cities, Glasgow, Edinburgh and Dundee.
A spokesman from Veterans Scotland said:
Veterans Scotland recognises how important Armed Forces Week has become to the nation and those who serve in Her Majesty's Armed Forces.
We are reminded during this week of the exceptional bond which exists between the three Services and the communities they live within and are supported by.
This support and the trust of local people is vital to the military, enabling them to conduct their duties both at home and abroad.
Armed Forces Week provides us with a wonderful opportunity to share time together and we should also remember that a great number of veterans also form part of our communities so Armed Forces Week provides an ideal chance to celebrate those who have served, those who are serving, and the communities that make their work possible.
The first Armed Forces Day event in Scotland is the Stirling Military Show on Saturday 23 June, with the main celebrations taking place in Glasgow, Edinburgh, Dundee and Aberdeen on 30 June.
In addition to the Armed Forces Day events in Dundee, the 1st Battalion Scots Guard will receive the Freedom of the City of Dundee.
Other events taking place across the UK next week in the lead up to Armed Forces Day include:
Monday 25 June - Armed Forces Day flag-raising ceremonies at various public and military buildings
Wednesday 27 June - Reserve Forces 'Wear Your Uniform to Work Day'
Wednesday 27 June - Wear Your Veterans Badge to Work
Published 20 June 2012