Armed Forces Compensation Scheme improved
The period in which personnel injured in service can claim compensation is to rise from five to seven years from point of diagnosis as part of a series of changes to the Armed Forces Compensation Scheme.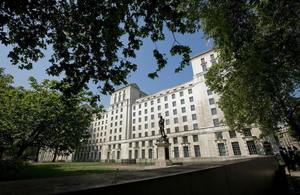 The change, which will come into effect on 3 August 2010, is one of several to be introduced following the recommendations from the Armed Forces Compensation Scheme Review, carried out by former Chief of the Defence Staff Admiral the Lord Boyce last year.
The Review, which was assisted by an independent scrutiny group that included Service charities, medical experts, serving personnel and veterans, announced its recommendations for improvements in February this year.
The majority of these improvements require legislative amendment to the Scheme and will be implemented by February 2011, but some changes can be made more quickly and will take effect from 3 August 2010.
These improvements include:
An increase in the maximum level of Bereavement Grant from £20,000 to £25,000 to reflect the increase in Armed Forces pay since 2005
An increase in the maximum level of Bereavement Grant for reservists who are not members of a reserve forces pension scheme to £37,500, to help bring their benefits in line with their regular forces colleagues
An uplift of the majority of awards for hearing loss by one tariff level.
Awards already made since April 2005 will be automatically revisited and will receive an uplift after all recommendations have been put into legislation.
Due to the complexity involved in revisiting such a large number of previous awards, this process will take time, but all additional payments are expected to be made by June 2012.
Andrew Robathan, Minister for Defence Personnel, Welfare and Veterans, said:
Making these changes and implementing the recommendations of the Boyce Review demonstrates the Government's commitment to injured Service personnel, both those serving and veterans.

We are working to get all of the recommendations from the Review into practice as soon as possible. Crucially, nobody will lose out as a result of these changes - indeed, all will receive an uplift to the amount they received. I am determined to continue to ensure the care for our personnel is the best possible.
All personnel seeking advice should call the Service Personnel and Veterans Agency free helpline on 0800 169 2277 or visit the website www.veterans-uk.info.
Published 21 July 2010