Armed Forces attend 'War Horse' premiere
Some 600 current and former members of the Armed Forces and their families attended the premiere of Steven Spielberg's new film 'War Horse' in London's Leicester Square last night. Report by Lorraine McBride.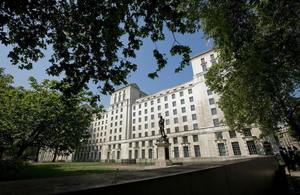 Also in attendance were the Duke and Duchess of Cambridge alongside Mr Spielberg and cast members Benedict Cumberbatch, Emily Watson, Tom Hiddleston and Jeremy Irvine.
The event, at the Odeon Cinema in Leicester Square, was held in aid of the Foundation of Prince William and Prince Harry - the Princes' charity.
The servicemen and women in attendance were invited from the Duke of Cambridge's Regiments, including RAF Search and Rescue units, the Household Cavalry, the Irish Guards, and personnel from RAF Coningsby, the Scotland Submarine Flotilla, Flag Officer Scotland, Northern England and Northern Ireland, and Naval Command Headquarters at Portsmouth.
Wing Commander Paul Godfrey from RAF Coningsby said:
It was a fantastic evening and really good to walk up the red carpet with my wife, and to meet the Duke and Duchess who were fantastic. Then to get the film introduced by the director Steven Spielberg himself was absolutely brilliant and not a dry eye in the house.
Flight Sergeant Steve Main, who also serves at RAF Coningsby, described how personnel were chosen to attend the premiere after putting their names forward to the Station Commander:
There was a great atmosphere," he said. "To see the cast and know that it is in aid of the Prince William and Prince Harry Foundation is great. Hopefully they have managed to achieve their target of raising £300,000.

The film was fantastic and, for us, the fact that we were able to bring our wives, which doesn't happen very often, was a very good experience.
Film director Steven Spielberg took time to express his admiration for all troops. He said:
Whenever I am in the presence of members of the Armed Forces, I am always humbled and inspired by all that they do for their country. It is a great honour to have so many of them here tonight.
The film is adapted from author Michael Morpurgo's 1982 novel set during the First World War about a boy called Albert who tames and trains a horse called Joey. Joey is commandeered to serve on the Western Front and Albert joins up to try and track down his beloved horse.
The film follows the extraordinary journey of the horse as he moves through the war, changing and inspiring the lives of all those he meets - British cavalry, German soldiers and a French farmer and his granddaughter - before the story reaches its emotional climax in the heart of No Man's Land.
Lieutenant Colonel Dan Hughes, Commanding Officer of the Household Cavalry Mounted Regiment (HCMR), said:
Horses are vital to the work we do today as modern soldiers; although we go to war in armoured fighting vehicles, when we are back in the UK on ceremonial duties the bond between a cavalryman and his horse is undeniably strong.
Captain Alex Owen, HCMR, added:
As Cavalry soldiers the story has echoes with what we do. Although we now go on operations in Afghanistan in armoured vehicles, horses are still an integral part of the Household Cavalry's ceremonial duties.

The regiment is delighted to have been invited to such an illustrious occasion, and it is a great opportunity to bring together soldiers serving on operations and on ceremonial duties together with their families.
Major Gareth Light from the Irish Guards, of which Prince William is Colonel, said:
It's an extraordinary privilege to be included in anything like this - a real honour for our Service to be recognised in this way.

Anything that helps to translate what military life is like and explains to the public the difficulties but also the loyalties created by war will ultimately help people to understand those of us who have served on operations and support those who have returned.
As modern day soldiers we try to match the standards of those who have gone before us - those who gave their lives in both world wars and other conflicts - to aim to be worthy of their sacrifice.
DreamWorks Pictures, the filmmakers behind 'War Horse', are also working with the charity Tickets for Troops to generously offer British military families across the country the chance to attend exclusive screenings of 'War Horse' from today.
DreamWorks have teamed up with Apollo Cinemas so that more than 600 troops and their families will be able to see 'War Horse' at the Apollo Cinemas in Leamington Spa, Port Talbot, Burnley, Torbay, Fareham and Piccadilly Circus, before the movie goes on general release on 13 January 2012.
See the Tickets for Troops website at Related Links for more details.
Published 9 January 2012