Arm in arm approach wins awards for nuclear companies
Three companies have won a prestigious award for their work to develop an innovative 'snake arm' to help reduce hazards on the Sellafield nuclear site.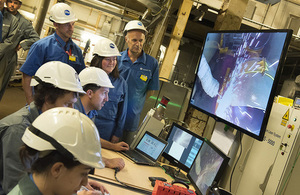 Sellafield Ltd, OC Robotics and TWI Ltd were acknowledged at this year's Nuclear Decommissioning Authority's Supply Chain Awards, winning the Technology/Innovation Implementation Award for the 'lasersnake' – a remotely operated snake-arm that can be used in confined and hazardous spaces to help drive forward nuclear decommissioning.
Rebecca Weston, Technical Director for Sellafield Ltd said:
Working collaboratively with small, innovative companies from Cumbria and all over the UK is allowing us to decommission the site safely and more quickly.

This has been a real team effort and I am delighted that the collaboration has been formally recognised as a successful one.
Driven by wire ropes, the lasersnake can navigate effortlessly through small spaces and cluttered environments with the ability to carry out laser cutting, inspection, fastening and cleaning activities.
It has successfully completed trials in radiological areas at Sellafield's First Generation Reprocessing Plant, proving it to be a versatile system for in-situ decommissioning tasks.
Rebecca added:
Robotics is becoming an important part of our daily activities. The ability to support our clean-up mission by accessing areas that are too radioactive for human entry makes new robots, like the lasersnake, an essential part of the team.
The project has been funded by the Nuclear Decommissioning Authority (NDA) and Innovate UK and along with other technological advancements, may help reduce future costs of cleaning up the site.
Together the three companies were praised for the innovation and collaboration they have demonstrated in getting the snake-arm technology from concept and design through to successful implementation at Europe's most complex nuclear site.
OC Robotics is a Bristol based company specialising in remote technology and TWI Ltd is an engineering firm based in Cambridge.
The annual NDA awards recognise the vital contribution of suppliers to the UK's nuclear clean-up mission.
Open to suppliers of all sizes, entries were submitted in six categories including innovation implementation, Small and Medium Enterprise innovation, collaboration and export success and a new award for skills development.
Published 7 November 2016