World news story
Are you running for gold?
British Embassy in Tunis launches an online game as part of the London 2012 Games legacy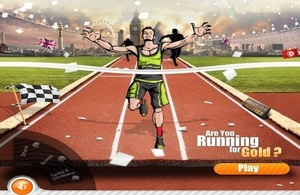 "Are You Running for Gold?" is an online Facebook application or "app" released by the British Embassy Tunis to mark the first anniversary of the London 2012 Olympic and Paralympic Games. The app is an interactive quiz with eye catching features.
"Are You Running for Gold?" is the first app launched by the British Embassy in Tunis. Players can choose a runner to participate in an Olympic-themed run. The game's graphics features famous attractions in London such as the London Eye and Big Ben – all to add a feel of participating in the London 2012 Games. The Facebook app contains three levels: Bronze, Silver and Gold – during which players will be prompted to answer a series of questions to overcome the obstacles and earn points. A diamond question will appear at the end of the game to help choose the ultimate winners.
The game contains questions promoting Tunisian athletes' participation in the London 2012 Olympic and Paralympic Games and also astonishing facts about London 2012.
The UK's new Ambassador to Tunisia welcomed the initiative. "Running for Gold is an exciting initiative to reinforce cultural and sporting ties between Tunisia and the UK. I am pleased to launch this first app and I hope it helps to reinforce the existing bridges of friendship between Tunisia and the UK"; says His Excellency Hamish Cowell, British Ambassador to Tunisia.
The top five players with the highest scores and best answers to the diamond question will be the overall winners.
Please visit our Facebook page to take part in the game. Good luck!
Published 17 September 2013