News story
Arab Partnership: Call for proposals for Egypt
The Arab Partnership is opening a call for proposals for Egypt.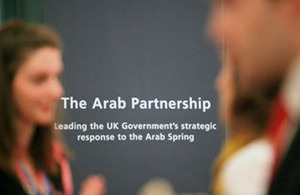 The Arab Partnership is opening a call for proposals for Egypt. We are looking for project ideas that fit under one of the following two themes:
Women's empowerment: Projects to help Egyptian women play a full part in the social, political and economic life of the country.

Helping Egypt to build a more open, accountable future: Projects to help tackle corruption and improve transparency.
We are particularly interested in projects that will have a broader impact than simply working with a small number of beneficiaries. This might be through working with local or national Government or public institutions or influencing policy formulation or private sector behaviour.
The project bids clearly need to demonstrate their contribution to one or other of the priorities. They will be assessed on what results they will achieve, how realistic the plans are and whether the results constitute good value for money against the proposed budget. Prospective partners will also need to demonstrate how they will measure the impact of their project.
Projects can be short or last up until March 2015. The approximate financial range is £50,000 to £500,000.
The Arab Partnership discloses all its project partnerships to the Egyptian Government. The Arab Partnership will fund international and local organisations that operate within the Egyptian legal framework.
Partners are requested to fill in the project concept note (Concept Note) and submit it to arab.partnership-egypt@fco.gov.uk by 26 April. These will then be reviewed and those who are successful at this stage will be invited to submit a more detailed proposal during May (please note that invitation to submit a full project proposal does not necessarily imply that project funding will be subsequently granted).
All queries should be directed to the following email: arab.partnership-egypt@fco.gov.uk
The Arab Partnership was established by the UK Government to support countries in the Middle East and North Africa which want to put in the place the building blocks of more open, free societies, underpinned by vibrant economies. The Arab Partnership works with host Governments, multilateral organisations and civil society in support of these objectives.
Forms and guidance:
Subject Guidance Notes -
Published 10 April 2013