News story
Apprenticeships share spotlight in Lord Mayor's Show
Apprentices from a range of industries will be taking part in a procession of more than 7,000 people in London on Saturday, 12 November.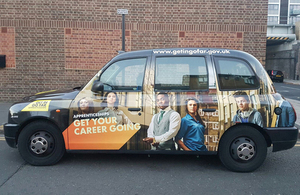 A group of over thirty apprentices will join the parade to showcase some of the 1,500 occupations across 170 industries that apprenticeships are available in, while supporting the Get in and Go Far campaign that encourages more young people to apply for these recognised and rewarding careers.
Chris Achiampong from IBM is currently appearing in the Get In Go Far campaign and will be leading the apprentices. Raised by his mother, who wanted him to progress to university, Chris wanted to contribute to the family finances, so turned down his place at university to start his apprenticeship at IBM in the system sales team.
Chris said:
I am happy with the route I chose, my apprenticeship has given me the stability and finances to help my mum. I am an apprentice, I've got an actual job, I'm part of a team and that's a great feeling.
The apprentices will be part of the procession, walking alongside vehicles from BMW, Volvo and a London taxi. Look out for the taxi in central London after the event as it will keep its Get In Go Far branding for a further 2 weeks to continue to promote apprenticeships.
Sue Husband, director, National Apprenticeship Service added:
The Lord Mayor's Show is a great platform to show the range and scale of apprenticeships on offer and this significant event is a great opportunity to show young people, considering what they want to do in their work life, the array of occupations where you can undertake an apprenticeship. The committed apprentices taking part in the parade come from a range of sectors and work in a variety of job roles.

Chris is leading the apprentices in the parade and is a fantastic advert for how young people really can get in and go far with an apprenticeship.
Paige Flynn, Hospitality Supervision & Leadership apprentice at Premier Inn is another apprentice taking part in the Lord Mayor's Show parade concluded:
I am delighted to be part of the procession to help make apprenticeships more visible and promote them as a valid career option to young people who cannot decide what to do when they leave school.
Find out more about the Lord Mayor's Show by visiting https://lordmayorsshow.london/
To find out more information about apprenticeships, visit GOV.UK.
Alternatively call 08000 150 600 or follow @apprenticeships on Twitter or National Apprenticeship Service on LinkedIn.
Published 11 November 2016