News story
Apprenticeships - reasons to be cheerful
A major new apprenticeships campaign launches today and there's plenty of proof as to why apprentices are a great route into the workplace.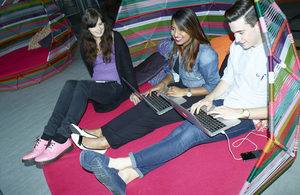 Apprenticeships play a great role in the UK's economy - supported by the government's industrial strategy.
Some great facts and figures that reinforce the benefits of apprenticeships to young people and to businesses:
More people will get the chance to earn while they learn, after more than 20,000 new apprenticeships were pledged by employers during National Apprenticeship Week 2014.

It's not just big corporates that support apprenticeships – 47% of employers creating new apprenticeships are small businesses.

The government has made a commitment to create 2 million apprenticeships over the lifetime of the current parliament.

Almost half of all firms are set to hire apprentices by 2019 - 44% in the UK plan to take on apprentices in the next 5 years.
The 'Get In. Go Far' campaign aims to inspire young people to consider an apprenticeship alongside university and benefit from the opportunity to earn while they learn. If you're an apprentice you can get involved too - take a selfie for our Pinterest board!
Watch one of the campaign adverts.
Speaking on apprenticeships, Business Secretary Vince Cable said:
For too long there has been a divide between university and vocational education which has been damaging for both employers and young people. Placing university degrees and apprenticeships on an equal footing will help break down barriers and better meet the needs of business.
To mark the launch of the new campaign, Skills Minister Nick Boles said:
The new campaign features some great success stories which show exactly how far an apprenticeship can take you. I would recommend any young person that isn't sure what to do next, to look at some of the new and exciting apprenticeship opportunities available to them.
Read the full press notice on the campaign.
And here are some more reasons to be cheerful about apprenticeships:
A study of 600 businesses shows that 20% of small businesses plan to take on one or more apprentices in the next 12 months - 37% of larger businesses plan to do the same.

Around a third of those that plan to take on apprentices say this is because they are a core part of their growth strategy.

Apprenticeships are growing in popularity. A recent study showed that 43% of employers are more likely to offer an apprenticeship than they were 2 years ago.

Nearly 2 in 5 said this was because the talent pool had widened as apprenticeships become more popular.

Overall, 41% of employers agreed that apprentices stay in the business longer than other recruits.
Published 20 August 2014