Press release
Apprentices recognised at reception hosted by the Deputy Prime Minister
Reception held as part of National Apprenticeship Week 2013.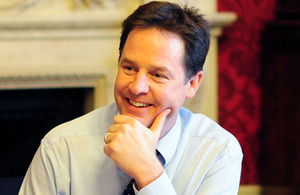 Apprentices from across the country were recognised for their achievements at a reception hosted by the Deputy Prime Minister to celebrate apprenticeships and showcase the contribution they make to the economy.
Deputy Prime Minister Nick Clegg said:
Apprentices not only make an invaluable contribution to their employer, but to the economy as a whole.

We've seen a record number of businesses clamouring to take on apprentices and that's because they know what a huge difference the talent and ambition they bring can make. We're also making it simple and rewarding for companies to take on apprentices - from mechanics to the hospitality trade.

I was delighted to welcome these outstanding apprentices to Admiralty House. It's clear they are making a valuable contribution and their hard work now will no doubt set them up for a bright future.
The reception, held as part of National Apprenticeship Week, was attended by apprentices the Deputy Prime Minister has met, as well as runners up and winners of the National Apprenticeship Awards 2012.
It was also held to launch a new campaign, Made by Apprentices, which will highlight the creative talents of apprentices by showcasing their work.
National Apprenticeship Week celebrates and promotes apprenticeships and the positive impact they have on individuals, businesses and the economy. Record numbers of businesses are taking on apprentices and the number of new apprenticeships nationwide increased last year by around 14 per cent, topping the half a million mark.
Apprenticeships bring vast benefits to the economy with apprenticeships forecast to contribute £3.4 billion to the economy by 2022. The average apprentice increases business productivity by £214 a week.
Published 13 March 2013