Apprentices help schools keep their Goblins on track
Dounreay apprentices who are also STEM ambassadors are once again working with local primary schools in Caithness and North Sutherland over the summer on a project to build a 'Goblin' electric car.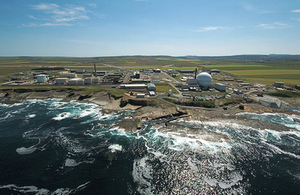 Our apprentices have worked on Goblin cars and helped the youngsters put together the kits over the past few years. The IET Formula Goblin Project aims to inspire young people aged 9-11 into engineering in a fun and innovative way.
The Goblin kit comes flat packed and with a step by step manual, to talk the team through the construction in an easy to understand manner. Building the Goblin introduces basic mechanics to all team members involved and once completed they have a fully functional car to take part in competitive racing events.
In schools the construction is easily integrated into the curriculum for excellence programme to illustrate key areas such as friction, materials, electricity, maths and design technology, as well as developing children's teamworking skills.
Five Caithness and Sutherland schools and one Orkney school are taking part this year and will each build a car and have the opportunity to race them.
Twenty-one Goblin projects have been organised and over the last four years we have helped twelve different schools. Last year Lyness Community School on Hoy joined the project and this year a consortium of Durness/Kinlochbervie and Scourie schools are entering a car.
Third year Dounreay and Rolls-Royce STEM ambassador apprentices go out to the schools on a regular basis to help with the build and keep the pupils on the right track. Admin and engineering support is also supplied by Dounreay engineers Michael Bailey and Pat Kieran.
The Goblin Challenge is an initiative organised through The Greenpower Education Trust, whose objective is to advance education in the subjects of sustainable engineering and technology to young people.
Scottish heats are held at the Grampian Transport Museum, Alford in June.
Published 16 May 2013