Eight local youngsters have spent their first week at Dounreay starting an apprenticeship at the site which was once the UK's centre for fast reactor research.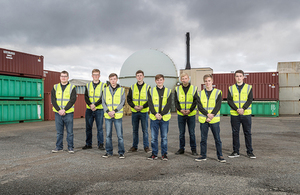 Three mechanical, 2 electrical, 2 instrument and 1 design apprentice have joined the 4-year scheme that provides on the job experience and training while they study part-time through the University of the Highlands and Islands in Thurso.
Phil Craig, Managing Director and former nuclear industry apprentice, said:
"Dounreay has a proud history associated with investment in young people and we are delighted to welcome another 8 apprentices who, along with 11 graduates this year, will help ensure we have the right mix of skills for upcoming decommissioning projects.
"This also represents another year where we have managed to continue apprentice recruitment beyond the planned end of the scheme 2 years ago.
This is a decommissioning programme and we recognise the importance of developing skills and experience that will stand the team in good stead both at Dounreay and for their future careers."
It brings the total number of apprentices progressing through the scheme to 35. Meanwhile, those at the end of their apprenticeship term are set to graduate with 11 former apprentices due to receive their indentures at a ceremony this week.
Dounreay Site Restoration Limited, a company owned by Cavendish Dounreay Partnership, is responsible for decommissioning the Caithness site on behalf of the Nuclear Decommissioning Authority
Published 8 September 2017