News story
Apprentices donate to local good causes
Dounreay's apprentices have once again excelled themselves and raised a whopping £1,800, benefiting three local organisations.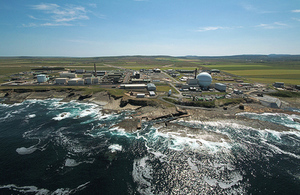 Earlier this year they attached themselves to 'turbo trainers' fastened to bikes and peddled away to raise money for charity.
The drill was to 'travel' as far as possible over the course of the day, with three teams peddling furiously for six hours. They clocked up 388.1 miles, which is impressive considering that's further than a trip to Inverness on each bike.
For £1 a shot, Dounreay staff guessed the total distance travelled over the course of the six hour challenge and lucky squares were available for guessing the Lotto Bonus Ball drawn that night. Prizes donated by DSRL were handed out to the winners.
Receiving their cheques for £600 each, were representatives from the Caithness Cycling Club, who will purchase a new bike for its members. The Girlguiding Caithness Camp Fund will buy new equipment for their annual camping trips and Crossroads Care (Caithness) will be able to provide an additional forty hours of care that would otherwise not be available.
Apprentice Training's Jim Swan thanked everyone involved and explained:
We're very proud of the way our apprentices continue to commit to our fundraising and generate such large amounts of money to support our local clubs and charities.

In the time I've been in this job they have raised over £20k, so a big thank you to Dounreay staff who keep on giving time after time and show constant generosity year after year.
Published 28 August 2014