Appointments to the Natural England board
William Cockbain and Professor David Macdonald have been appointed to the Board of Natural England.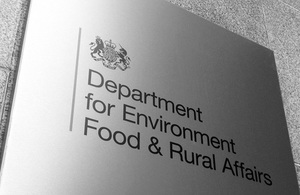 The Board of Natural England is the body responsible for enhancing and managing the natural environment, by Richard Benyon, Natural Environment and Marine Minister.
William Cockbain and Professor Macdonald are appointed with effect from 1 October 2011 for three years. Each will receive a remuneration of £12,136 a year for 37 days work.
The appointments have been made in accordance with the Code issued by the Commissioner for Public Appointments.
All appointments are made on merit and political activity plays no part in the selection process. However, in accordance with the original Nolan recommendations, there is a requirement for appointees' political activity (if declared) to be made public.  None of the individuals mentioned above have declared any political activity during the past five years.
Notes
Biographies
William Cockbain farms a large hill farm in the Lake District as part of a family partnership. He was an NFU County Chairman in 2002 and has been the NFU's national uplands spokesman since 2004. In 2006 he was appointed as Defra's North West Sustainable Food and Farming Champion, a position held until the end of March 2011. He currently chairs the grant panel for the North West Livestock programme and has recently been involved in promoting catchment sensitive farming to farmers.
David Macdonald CBE is the Professor of Wildlife Conservation and the Director (and founder) of the Wildlife Conservation Research Unit at Oxford University. He is also Chairman of the Darwin Advisory Committee and has been a Member of the Natural England Board since May 2006. He was admitted to the Fellowship of the Royal Society of Edinburgh in 2008 and awarded a CBE for services to natural sciences in the Queen's 2010 Birthday Honours List.
Published 26 August 2011