Press release
Appointments to the National Forest Company
Catherine Graham-Harrison appointed as Chair and Roger Clarke as a Non-Executive Director of the National Forest Company.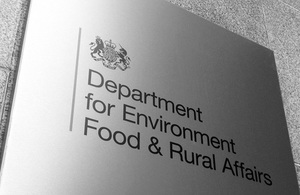 Minister of State Jim Paice has announced the appointment of Catherine Graham-Harrison as Chair and Roger Clarke as a Non-Executive Director of the National Forest Company. The appointments will run from 1 April 2011 to 31 March 2014.
Jim Paice also announced the retirement of the Dinah Nichols, CB, who has chaired the National Forest Company for the last six years. Valerie Owen and Russ Canning also retire as Non-Executive Directors after six years' service.
These appointments have been made in accordance with guidance issued by the Office for the Commissioner for Public Appointments (OCPA). Political activity plays no part in the selection process.
The National Forest Company is a non-departmental public body that was established in 1995 to lead the creation of The National Forest in the English Midlands. To date over seven million trees have been planted which has resulted in woodland cover increasing from six per cent to nearly 18 per cent across the 200 square miles covered by the Forest.
Notes to Editors
The National Forest Company leads the creation of The National Forest, working in partnership with landowners, local authorities, private business, voluntary organisations and local communities and has strong support from Government, politicians and the public. The Company, which celebrated its tenth anniversary in 2005, receives grant in aid from the Department for Environment, Food and Rural Affairs.
The National Forest area covers 200 square miles of the counties of Leicestershire, Derbyshire and Staffordshire. Its objective is to increase woodland cover within its boundaries from an initial six per cent to about one third. No multi-purpose forest on this scale has been created in the UK for one thousand years. To date the proportion of woodland cover in the Forest has already nearly trebled to almost 18 per cent and over seven million trees have been planted.
Year by year, The National Forest has been steadily turning what was once one of the least wooded areas of England into a multi-purpose, sustainable forest. The National Forest provides environmental, social and economic benefits, including landscape enhancement, creation of new wildlife habitats and major new access and leisure opportunities. It is an excellent example of sustainable development - with environmental improvement providing a stimulus both to economic regeneration and to community pride and activity.
Further information on the National Forest and the National Forest Company can be found at www.nationalforest.org
Biographical details
Catherine Graham-Harrison is recognised for her expertise in governance, organisational change and development, strategy and leadership, developed through executive and non executive roles, as well as in her consultancy, set up in 1994. Her varied career and consultancy have included work in housing, community engagement, social development, the built and natural environment, the arts, heritage and financial services.  She is currently a Board Member of Natural England and a member of the National Trust's Architectural Panel.  Previous Board appointments include the Joseph Rowntree Foundation, Womankind Worldwide, the Heritage Lottery Fund and the Foundling Museum.
Roger Clarke has a strong background in countryside issues. He is a Board member of the Woodland Trust and a nationally appointed member of the Peak District National Park Authority. He was formerly a Director at the Countryside Commission and then a Board member at Natural England.  He was Chief Executive at the Youth Hostels Association for eight years up to 2008. He lives in Derbyshire.
Published 25 March 2011