News story
Appointments to the Dounreay Board
Simon Middlemas OBE and Bill Root have been appointed as non-executive directors of the Dounreay Site Restoration Limited (DSRL) Board.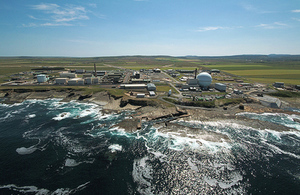 The appointments follow the decision of Elizabeth Gray and Robbie Gray to step down as non-executive directors.
Simon is well known at Dounreay, having served as the company's Director from 2006 to 2012. He remains an important figure in the local community, promoting future investment and opportunities for Caithness.
Bill brings with him a wealth of experience from many years at BNFL and Magnox Electric. He is now a principal consultant for DBD and sits on the nuclear safety committees at Sellafield and URENCO Capenhurst.
Simon Bowen, DSRL Chairman, said:
"On behalf of the Board and the site team, I'd like to thank Elizabeth and Robbie for the work they have done over many years to represent and support the company. Securing the experience and knowledge of Simon and Bill is good news for Dounreay as we deliver the contract to achieve the site's interim end state on behalf of the Nuclear Decommissioning Authority."
Published 4 November 2016