Appointments to the board of the Marine Management Organisation
The appointments will run from 18 February 2013 until 31 January 2016.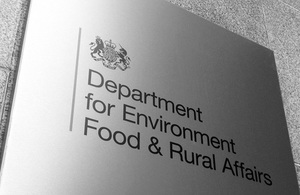 Robin Teverson and Andrew Wells have been appointed to the Board of the Marine Management Organisation (MMO) by Environment Secretary Owen Paterson.
The appointments will run from 18 February 2013 until 31 January 2016. Board Members receive a remuneration of £11,804 for a minimum of 36 days per year.
The appointments have been made in accordance with the Code of Practice issued by the Commissioner for Public Appointments. All appointments are made on merit and political activity plays no part in the selection process.
In accordance with the original Nolan recommendations, there is a requirement for appointees' political activity (if any declared) to be made public. Robin Teverson declared that he is a Liberal Democrat peer and elected local councillor. Andrew Wells has not declared any political activity.
The MMO was created under the Marine and Coastal Access Act 2009 to deliver the Government's policy objectives for clean, healthy, safe, productive and biologically diverse oceans and seas.  In addition to managing fisheries around England, the MMO works to prevent illegal and unregulated fishing worldwide.
Biographies
Robin Teverson is an active public figure. He is a Liberal Democrat Member of the House of Lords and of Cornwall Council. He was a Member of the European Parliament between from 1994 until 1999.
Robin has experience in Board and Chair roles, in both the public and private sectors. Robin gained substantial business experience with the National Freight Company and with FC Fund managers. He is a member of the Cornwall and Scilly Local Enterprise Partnership.
Andrew Wells is a Board member of Moat Homes Ltd, a housing association in the South East of England.  He was Chair of Redbridge Homes, a body responsible for managing council housing in the London Borough of Redbridge, until July 2012.  Andrew acted as a consultant to the Olympic Park Legacy Company.
Andrew was Director of Planning at the Department for Communities and Local Government (DCLG) until 2011. Prior to that, he was Director of New Homes and Sustainable Development and Director of the Regional Co-ordination Unit, the corporate centre for the Government's Regional Network in England.
Published 15 February 2013