News story
Appointment to the Prison Services Pay Review Body
The Lord Chancellor today announced the appointment of Leslie Manasseh as the new member of the Prison Services Pay Review Body.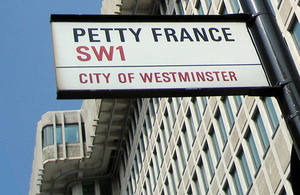 The appointment is for an initial term of 3 years from 17 August 2015, subject to security clearance.
Since 2010, Leslie has been the Deputy General Secretary of Prospect - a union of 115,000 specialists, professionals and managers across the private and public sector.
The majority of his career before this was spent in Connect (formerly the Society of Telecom Executives), initially as the National Organiser and Director of Organisation and Development followed by 8 years as the Deputy General Secretary. He is also currently the President of the TUC, having been a general council member since 2002.
He is currently the lead negotiator for Prospect's 34,000 civil service members with direct involvement in negotiating pay awards and pay systems, pensions and performance management schemes.
The appointment has been conducted in accordance with the Commissioner for Public Appointments' code of practice on appointments for public bodies. He has not declared any political activity.
Published 7 September 2015