Appointment to the Joint Nature Conservation Committee
Professor Michel Kaiser has been appointed as an independent member of the Joint Nature Conservation Committee (JNCC), by Richard Benyon, Natural Environment and Marine Minister.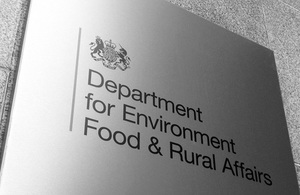 The appointment will run from 1 April 2012 for three years, and Professor Kaiser will receive a remuneration of £9,836 a year based on 2.5 days a month.
JNCC is the public body that advises the UK Government and devolved administrations on UK-wide and international nature conservation.
The appointment has been made in accordance with the Code issued by the Commissioner for Public Appointments.
All appointments are made on merit and political activity plays no part in the selection process.  However, in accordance with the original Nolan recommendations, there is a requirement for appointees' political activity (if declared) to be made public.  Professor Kaiser has not declared any political activity during the past five years.
Biography
Professor Kaiser also holds the following public appointments
Board Member of Seafish  - remuneration of £5,670 a year. 
Member of the Biodiversity Research Advisory Group - remuneration nil. 
Chair of the Marine Fisheries Stakeholder Forum - remuneration nil. 
Professor Michel Kaiser is Professor of Marine Conservation Ecology at the School of Ocean Sciences, Bangor University.  He also chairs Defra's Marine Fisheries Stakeholder Forum and is a panel member of the European Science Foundation Marine Board Working Group 'Valuing Marine Ecosystems'.  After gaining his PhD he joined CEFAS where he led a research team studying the effects of human activities (fishing and aquaculture) on the marine environment.  He joined Bangor University as a lecturer where he expanded these interests to encompass the social and economic consequences of different approaches of managing fishing activities.  He has been awarded the Fisheries Society of the British Isles medal and a personal Chair in Marine Conservation Ecology.
Published 16 April 2012