News story
Appointment of two lay members to the Legal Services Board
The Lord Chancellor, in consultation with the Lord Chief Justice, has appointed Jeremy Mayhew and Catharine Seddon to the Legal Services Board.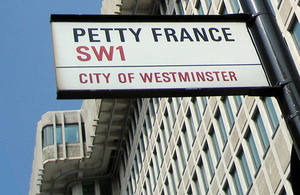 The Lord Chancellor today (30 September 2016) announced the appointments of Jeremy Mayhew and Catharine Seddon as the new lay members of the Legal Services Board.
These appointments are for an initial term of 3 years from 1 October 2016, subject to security clearance.
Catharine Seddon
Catharine Seddon spent many years as a film documentary maker for BBC TV and then as an independent producer for Channel 4. She began working for the judiciary in 2002 and now sits on tribunals in the jurisdictions of social security, employment and mental health. She is a presiding magistrate in Central London and sits as a Lay Assessor under the Equality Act in county court cases.
Her national public appointments include The Gambling Commission and the Determinations Panel of The Pensions Regulator. She is a former Audit and Risk Assessment Committee (ARAC) chair and member of the Human Tissue Authority and member of the Independent Appeals Committee for the Human Fertilisation and Embryology Authority. She is a trustee for the London Centre for Children with Cerebral Palsy.
Catharine read Philosophy and Psychology at Somerville College, Oxford.
Jeremy Mayhew
Jeremy Mayhew is Chairman of the City of London's Finance Committee and a Member of the UK Government's Regulatory Policy Committee.
For most of the past 35 years, Jeremy has worked in the broadcasting industry– and, for the past 15 years, he has been a senior strategy consultant, mainly advising clients in and about the media sector – most recently, as a Senior Adviser in PwC's consulting practice, having previously been a Partner and Director in other consulting firms.
Since 1996, Jeremy has been a Common Councilman (local councillor) in the City of London. Prior to chairing the City's Finance Committee, Jeremy chaired the City Bridge Trust (London's largest independent grant-awarding charity), the Barbican Centre Board, and the City's Audit & Risk Management and Education Committees.
In the past, Jeremy has been a Non-Executive Adviser to the Mayor of London's Office for Policing and Crime (MOPAC) and has served on the Boards of the London Development Agency, the Strategic Rail Authority, and BBC Worldwide (the BBC's main commercial division).
Jeremy read Philosophy, Politics and Economics at Balliol College, Oxford University and, subsequently, gained an MBA with High Distinction from Harvard Business School.
Published 30 September 2016