News story
Appointment of Tony Pate as Member of Merseyside Probation Trust
The Ministry of Justice and Merseyside Probation Trust are pleased to announce the recent appointment of Tony Pate as a Member of Merseyside Probation Trust.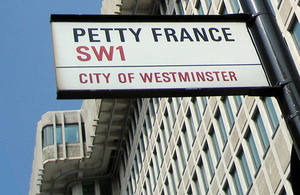 Tony joined the Trust in an advisory capacity in July 2012, having previously been Managing Director of Arena Homes, a subsidiary of the Arena Housing Group - a large Housing Association operating across the north of England. Tony has over 30 years' experience within the housing association movement, the majority at a senior level, and was responsible for the management and maintenance of over 8,000 housing units spanning 18 local authorities. This encompassed a significant spread of types of housing, ranging from accommodation for young people and families and leasehold accommodation to specialist types of housing for particular needs groups.
Merseyside Probation Trust is one of 35 Probation Trusts across England and Wales. It supervises adult offenders who have been given a community sentence by the courts, or who have been released from prison on licence. The Trust works in partnership with numerous agencies to protect the public, punish offenders, assist victims of crime and reduce re-offending by supporting the rehabilitation of offenders. Each Probation Trust is run by a local Trust Board, selected to reflect the diversity and concerns of the community it serves.
Tony Pate's term of office will run from 1 July 2013 to 31 March 2014, with the possibility of an extension, and the post is remunerated at the rate of £15.40 per hour. His appointment as a Member of Merseyside Probation Trust has been made in accordance with the Code of Practice for Ministerial Appointments to Public Bodies. All appointments are made on merit and political activity plays no part in the selection process. However, in accordance with the original Nolan recommendations, there is a requirement for appointees' political activity (if any declared) to be made public. Tony Pate has not declared any political activity.
Published 19 June 2013