News story
Appointment of the Chair of the Parole Board
The Secretary of State has announced the appointment of the Chair of the Parole Board.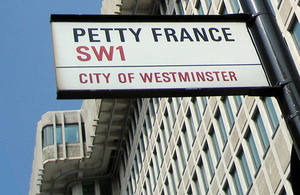 Caroline Corby has been appointed as Chair of the Parole Board.
Caroline has served as interim Chair since 23 April and will formally take up post from 1 November 2018 for a tenure of 3 years.
The Parole Board's functions and duties are set out in Section 239 and Schedule 19 to the Criminal Justice Act 2003. Parole Board members make risk assessments about prisoners to decide who may safely be released into the community or make recommendations for transfer to open prison conditions.
Appointments and re-appointments to the Parole Board are made by the Secretary of State for Justice and are regulated by the Commissioner for Public Appointments. This appointment has been made in line with the Governance Code on Public Appointments.
Lord Chancellor and Secretary of State for Justice David Gauke said:
I am pleased to announce the appointment of Caroline Corby as permanent Chair of the Parole Board.

I have confidence Caroline will provide strong leadership and I look forward to working with her as we move forward with our parole reforms and build on the work we have already done to increase transparency and better support victims.
Brief biography:
In addition to her recent service as interim Chair, Caroline has been a Non-Executive Director of the Board since 2015. She also holds Non-Executive Director roles at One Housing, Cafcass and the Criminal Cases Review Commission and is a Panel Chair of the Nursing and Midwifery Council and a Panel Member at the General Optical Council. Caroline has previously been Board Chair of London Probation Trust (2012 to 2014) and a Non-Executive Director at the Probation Association (2013 to 2014).
Published 20 September 2018