Press release
Appointment of interim Chief Executive for the Biotechnology and Biological Sciences Research Council
Professor Melanie Welham has been appointed as interim Chief Executive of the Biotechnology and Biological Sciences Research Council.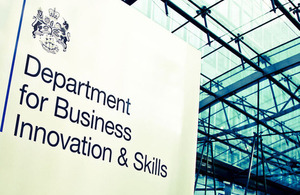 The Minister for Universities and Science, Jo Johnson, today (11 February 2016) announced the appointment of Professor Melanie Welham as interim Chief Executive (CEO) of the Biotechnology and Biological Sciences Research Council (BBSRC).
Announcing the appointment Jo Johnson said:
I am pleased to appoint Melanie Welham as interim Chief Executive of BBSRC. As the previous Director of Science at the BBSRC and with an excellent track record across research, academia and management, Melanie is very well placed to take on this role. I wish her well in her appointment.
Professor Sir Gordon Duff, Chairman of BBSRC, said:
We are entering a period of great opportunity and change in the Research Councils and I am delighted that BBSRC, its staff and UK bioscience researchers will have high quality leadership in Melanie Welham. Melanie brings not only in-depth knowledge of BBSRC and our science but experience and networks across the Research Councils, government and the research community.
Professor Welham said:
Prof Jackie Hunter has done a fantastic job as Chief Executive since 2013 and is leaving BBSRC in a very strong position for the future. Having been part of BBSRC's leadership team for over 3 years and having had a long association with the Council, both as a researcher and member of research committees, I am very aware of the value, impact and potential of the organisation and the science we support. I am very much looking forward to leading BBSRC and ensuring that we continue to support excellent bioscience – vital to building the UK bioeconomy.
The interim appointment will run from 1 March 2016 until a new CEO is recruited to replace Jackie Hunter.
The BBSRC is a national funding agency supporting biotechnology and biological sciences research and study in the UK. In the 2015 Spending Review, the government protected science funding of £4.7 billion in real terms over the Parliament. This will include a new £1.5 billion Global Challenges Fund.
Notes for Editors
The Biotechnology and Biological Sciences Research Council (BBSRC) invests in world-class bioscience research and training on behalf of the UK public. Their aim is to further scientific knowledge, to promote economic growth, wealth and job creation and to improve quality of life in the UK and beyond. Funded by government, BBSRC invested over £509 million in world-class bioscience in 2014 to 2015. They support research and training in universities and strategically funded institutes. BBSRC research and the people they fund are helping society to meet major challenges, including food security, green energy and healthier, longer lives. Their investments underpin important UK economic sectors, such as farming, food, industrial biotechnology and pharmaceuticals.

Professor Melanie Welham was Professor of Molecular Signalling at the University of Bath before she took up her current role at BBSRC as Executive Director, Science on 1 October 2012. Melanie is a leading researcher in molecular signalling and stem cell science. Until September 2011, she was co-director of the Bath Centre for Regenerative Medicine where she oversaw the activities of this interdisciplinary centre. Earlier in her career, she was awarded a BBSRC Research Development Fellowship, which enabled her to develop and pursue new research directions. She moved from the study of signalling in white blood cells to seeking to understand the fundamental mechanisms controlling the behaviour of embryonic stem cells. Melanie has a well-developed understanding of the requirements and demands of delivering BBSRC research and the interface between the Council and the research community. For more than 4 years she served on BBSRC peer review committees, including periods as either chair or co-chair. Professor Welham also served on the advisory committee for the UK National Stem Cell Network from 2009 to 2011.
Published 11 February 2016